Best Practice - Medical Director (Pracsoft) - Zedmed - HotDoc Calendar


HotDoc Payments allows flexibility to provide a payment option for online booked appointments and practice booked appointments made directly through your clinic. It also provides the ability to send payment requests for immediate charge, such as for debt collection, late cancellations or no-show fees.
For practices using Best Practice, HotDoc Payments has extra functionality that allows you to automatically charge your patients an exact amount based upon the invoice generated for their appointment.
With Payments you can:
Automatically and securely accept payments from the patient when they make an appointment online through HotDoc, or through your practice directly


Charge the patient the actual cost after you have added MBS item numbers or if the appointment type changes mid consult

Reduce reception's time spent manually processing payments over the phone


Customise how much you wish to charge for different appointment types

Send ad hoc payment requests for immediate charge
1. The Payments Journey
Before setting up HotDoc to process payments for your consults, we recommend that you first review the payment journey from a patient point of view. See Payments - The Patient Journey
We understand that using an online system to process payments for an appointment may be a new experience for your practice and patients. By reviewing the patient journey, you and your team will be able to know what to expect and confidently preempt any concerns or questions.
The patient journey will be different depending on how you have configured your HotDoc Payments. The types of payments you can setup include:


Payments for Online booked appointments
Payments for Practice booked appointments
Payments for upcoming appointments (online booked or practice booked appointments that do not have payments setup already)
Payment requests for immediate charge.



Firstly the patient will be required to enter their card details for their upcoming appointment (we recommend viewing Payments - The Patient Journey for step by step instructions on what they see based upon what payments you have setup)


Once the patient's appointment has concluded and their invoice has been finalised in Best Practice, HotDoc will sync the invoice attached to their appointment and attempt to charge the nominated payment method.


You will then be required to collect the payment in the HotDoc Dashboard, and we will charge the patients card.


If HotDoc is unable to charge the nominated card, we will automatically SMS the patient requesting them to opt for another payment method. We will then attempt another charge 24 hours after the first charge.


Once the charge is successful the patient will receive an email confirming the actual cost of the appointment, and some links on how to claim a Medicare rebate if they are eligible. See How does a patient claim their Medicare Rebate for their payment made via HotDoc?

for more information.
2. Set up your payment method
An account with either Pin Payments or Stripe is required to process payments online from your patients.
To set up your payment account, see How to setup a Payment Provider.

ⓘ Why do I need to do this?

In order to take payments, you will firstly need to sign up with an account with one of our preferred payment providers. You may already have signed up with either Pin Payments or Stripe if you've previously used our Repeats product. If so, go ahead and move to the next step.


Payments are set up in your HotDoc Dashboard under Payments > Payment Setup > Accounts: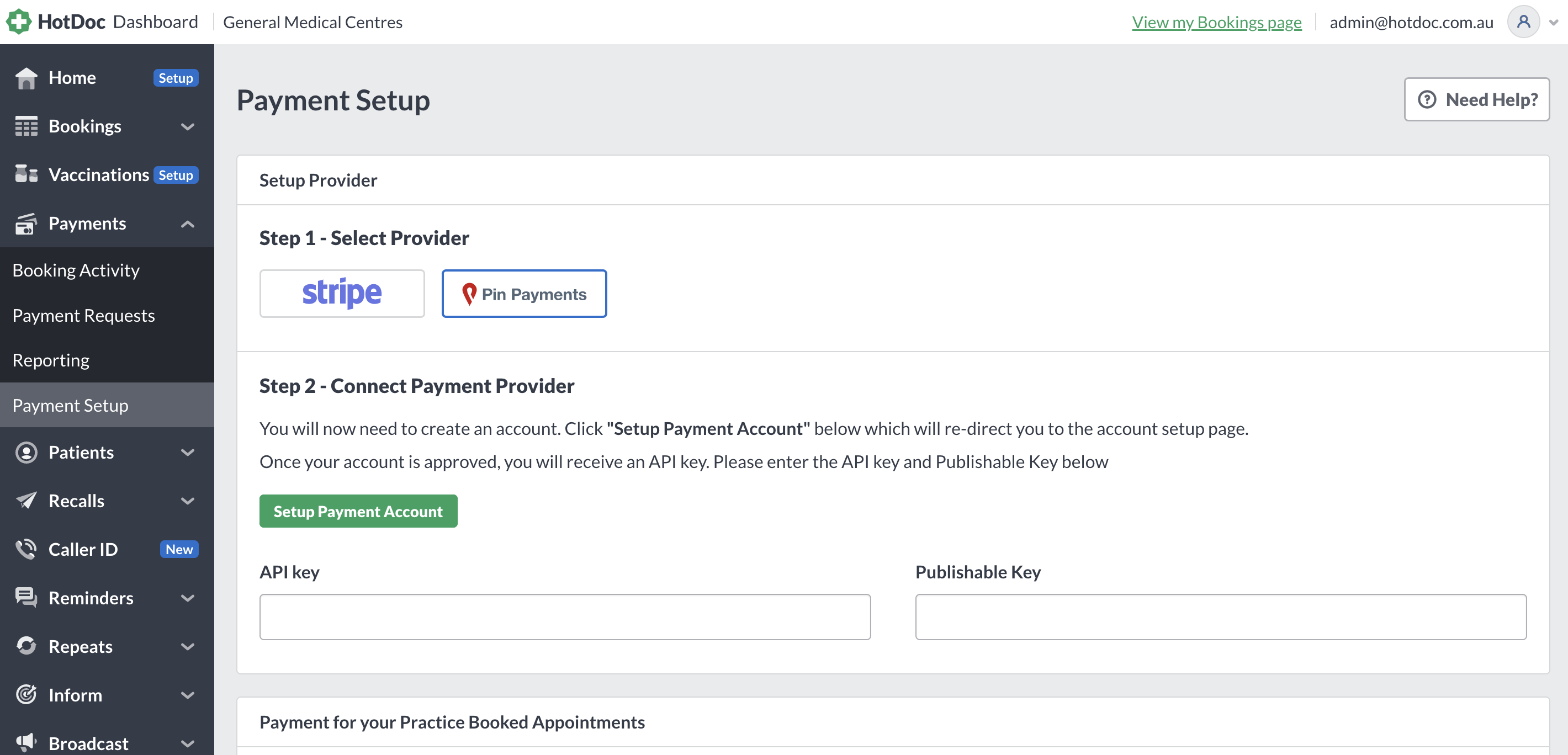 During sign up, you will be required to provide some information about your business such as your bank details and ABN so it's handy to have this information ready to fill in.
Pin Payments also requires you to provide identification in order to comply with laws regarding fraud prevention. Once your account has been authorised, you will receive an API key which you will need for your Payments setup.
3. Setting up and using HotDoc Payments
There are a variety if ways that you can use HotDoc Payments.
You can set up automatic requests for online booked and reception booked appointments, and also send manual requests for online or reception booked appointments.

Use the following resources below to setup payments for your appointment types. In this step, you will also be required to select a cost at which you charge for these appointments:
4. How to collect a payment for a patients appointment
If you sent a card detail request and the patient has provided their payment method, after the appointment start time, you can collect payment via the HotDoc Dashboard.
For practices using Best Practice, once you have finalised the invoice in Best Practice we will show the actual outstanding cost from the invoice in your Dashboard.


6. Managing your Payments
Now that Payments is activated, you can keep a track of your payments in the Payments section of the HotDoc Dashboard. You can see an audit of the following:
Booking Activity - history of your online or practice booked appointments, and functionality to manual request card details for upcoming appointments
Payment Requests - history of your ad hoc payment requests for immediate charge, and functionality for payment requests
Reporting - payments activity overview and ability to download a report of your payments for reconciliation
Payments Setup - account and appointment type setup, including automatic payment requests

Example of Payments Section in the HotDoc Dashboard
The following articles will assist you in understanding how to use and best manage your payments. You can view all of our payments support resources here.
7. Educate and train your team
As with anything new, education is key to ensuring a higher patient engagement rate. The more you promote the system to your team, the more comfortable they will feel with managing payments.

Congratulations! You have now fully setup and learnt how to manage HotDoc Payments. As your patients and team start to use this, they may naturally have questions. Most questions can be preempted by good education and knowledge of the product.
To educate your Team:
Get your team to take our HotDoc Academy course! Access it here by logging in with your HotDoc user account email and password.


Make sure they have reviewed this article so they understand how HotDoc Payments works.


To view all our support articles on payments, you can access the support resources here. We recommend favouriting this link in your browser for easy access!



Ensure they access the following articles to view the patient journey, how to set this up in the Dashboard, and manage payments

Review this article

What happens to a patients payment details if I modify their appointment? to understand the actions you may need to take to re-capture payment details if you edit the patients appointment.


For some frequently asked questions please review Payments FAQs.


Best Practice customers only: Review this article Why did HotDoc not sync the Invoice? to see some scenarios whereby we may not sync a patients invoice.

To educate your patients: