In your Dashboard, you are able to customise your practitioner profiles, allowing your patients to book an appointment online with ease and efficiency.
Please note: In order to display the relevant appointments online for each of your practitioners, you will need to set up your appointment types. For more information on how to do this please click here.

To update your practitioner profiles, follow these steps:
1) Log in to your HotDoc Dashboard here
2) Click on Bookings in the menu on the left.
3) Click on Practitioner Setup.
4) To add a new practitioner click on New Practitioner in the top right corner
This will open a new profile to be set up.
5) First, you will be asked for the display name (this is what will show on your booking page). Please enter the name and click Create.
6) You are then able to fill in the remaining details for your new practitioner including their Professional Statement, an Image as well as their Areas of Interests.
  
7) Next, you will need to link this new profile to the corresponding practitioner profile in your clinical software by using the drop down menu under the "Link to Practice Management System" section. Please note: If a practitioner is not linked, they will not appear on your booking page.
8) Once a link has been established, you are able to click the visible for online bookings box, which will ensure this profile will go live when saved.
9) You can also choose to tick the tell new patients to call the clinic box, which will ensure that any patients who identify as new, will need to call the clinic to book an appointment with this practitioner.
8) The next step is to enable the relevant appointment types. If the default appointment type settings you have already set up do not apply to a particular practitioner, you are able to edit each by clicking on Edit.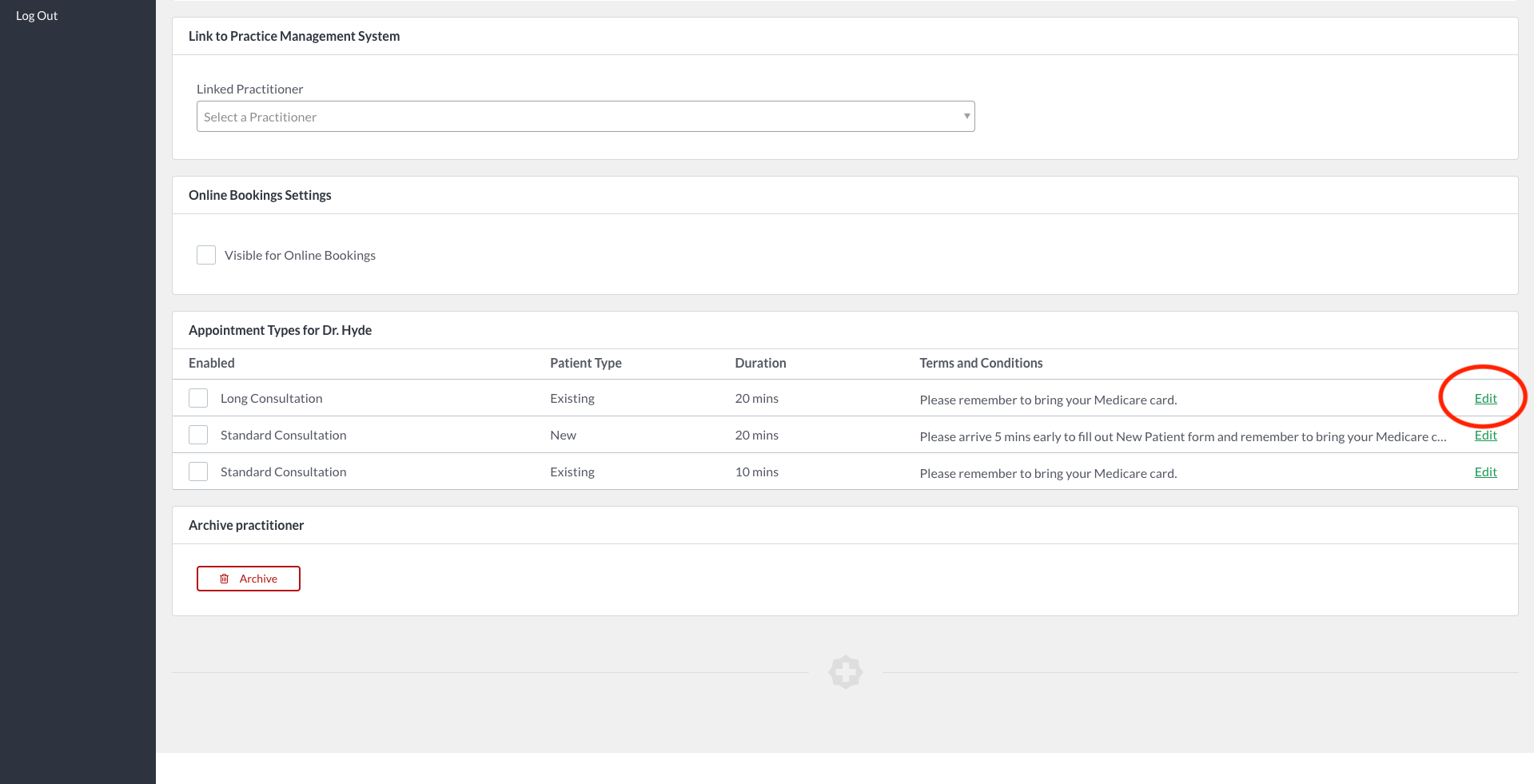 8) If you are wishing to restrict the amount of days before an appointment a patient can book, you can do so in the Advanced Settings

9) Once you're happy with your new practitioner's profile, scroll to the bottom of the page and hit Save.
Alternatively, you can watch this video below for a step by step visual guide for setting up or editing a practitioner profile: