The HotDoc Appointment Calendar is where you can see and control your upcoming appointments and availability, allowing HotDoc to know what times we should show as bookable online for your clinic.
The Appointment Calendar allows you to easily view practitioner schedules as well as book, reschedule, and cancel patient appointments.
This guide will take you through how to use the Appointment Calendar to manage your bookings for your clinic. It also includes some handy links to resources you may want to refer to as you use HotDoc, as well as a training video you can have your staff view.
How does the Appointment Calendar work?


The HotDoc Appointment Calendar is an appointment book view that shows your practitioner's sessions, accepted online bookings, as well as any manually created appointments.
To access the Appointment Calendar, log into your HotDoc Dashboard and navigate to Calendar: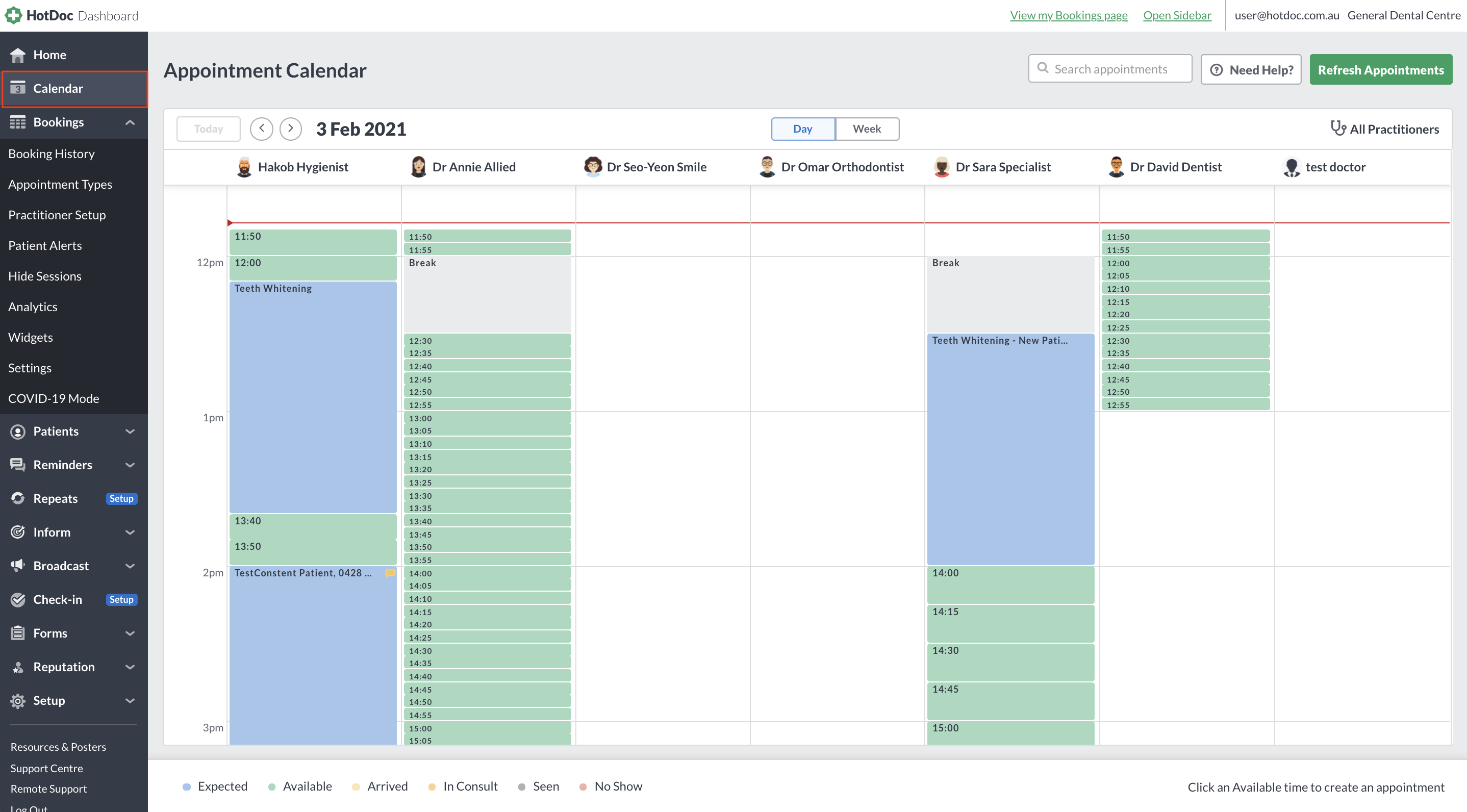 On this page, you can view all successful online booked appointment requests, as well as any appointments you have manually entered yourself. Available appointment times are shown in green and these are the times that HotDoc will show as available online.
In order for HotDoc to show the correct availability, it is important that the HotDoc Appointment Calendar has both your online bookings and your regular bookings entered into the appointment book view
Some clinics will use the HotDoc Appointment Calendar as their main appointment book while others will manage availability by regularly updating the HotDoc calendar with appointments created in their clinical software.
Features of the HotDoc Appointment Calendar
Anyone with a clinic user that can access the Dashboard can log in to view this appointment book. It is recommended that you create individual users for each person who may need access to the calendar. See How to create, edit or delete a Clinic User to learn more.


Practitioner sessions or schedules are populated using the settings in each practitioner's HotDoc profile. To adjust this, see our guide on editing availability settings.


Hiding sessions is the quickest way to make recurring times unavailable for practitioners. Clinics use it to mark off regular breaks or walk in sessions. To hide a session, see How to hide a session.


You can toggle between Day and Week view by selecting the option you wish above the calendar. If choosing Week view, toggle between practitioners by using the Change button on the right:




You can search for a patient's appointment by using the Search appointments field:




Available appointment times are shown in green, while booked appointments will be shown in various colours depending on their arrival status. You can learn more about this below.


Patient consent and communication can be also managed from the Appointment Calendar, which includes options to send HotDoc communications such as appointment reminders, or to send a new patient form.
How to add an appointment or block
To manage your online availability, you will need to add appointments that were not booked via HotDoc. Follow these steps to learn how to add a new appointment:

In the Appointment Calendar view, select any green available time that you wish to book:




In the Edit Availability modal, select the appointment type using the drop down and edit the date and duration if required. Select Save if you don't require patient details associate with the unavailable time (e.g. if you are only entering a block to exclude this time from online availability) or select Add Patient if you wish to add patient details:




If adding patient details, you can choose between finding an existing HotDoc patient (if they've previously made a booking at the clinic via HotDoc) or adding a new patient to your HotDoc database:




If adding a new patient, enter their details as required and select Save. You can also choose whether this patient consents to HotDoc communication (e.g. Appointment Reminders) and whether this patient requires a new patient form to be sent by HotDoc:




Once saved, you can see the block in the calendar alongside any patient details if added:




How to reschedule or cancel an appointment
In the Appointment Calendar view, select the unavailable time that you wish to edit:




In the Edit Appointment modal, select either Cancel to confirm removal of the booking or Reschedule to choose another time:




If rescheduling the appointment, choose a new time slot (you can also choose another time slot with a different practitioner if required):




The appointment will then move into the newly selected time slot and rescheduling confirmed. Please note: If the patient is opted into HotDoc communication, we will send them an SMS confirmation of their new time slot:



Patient Consent for Reminders and Forms
Patient details that are entered into the HotDoc Appointment Calendar are saved to your clinic's HotDoc Patient database.
You can click into an appointment to view a patient's consent settings: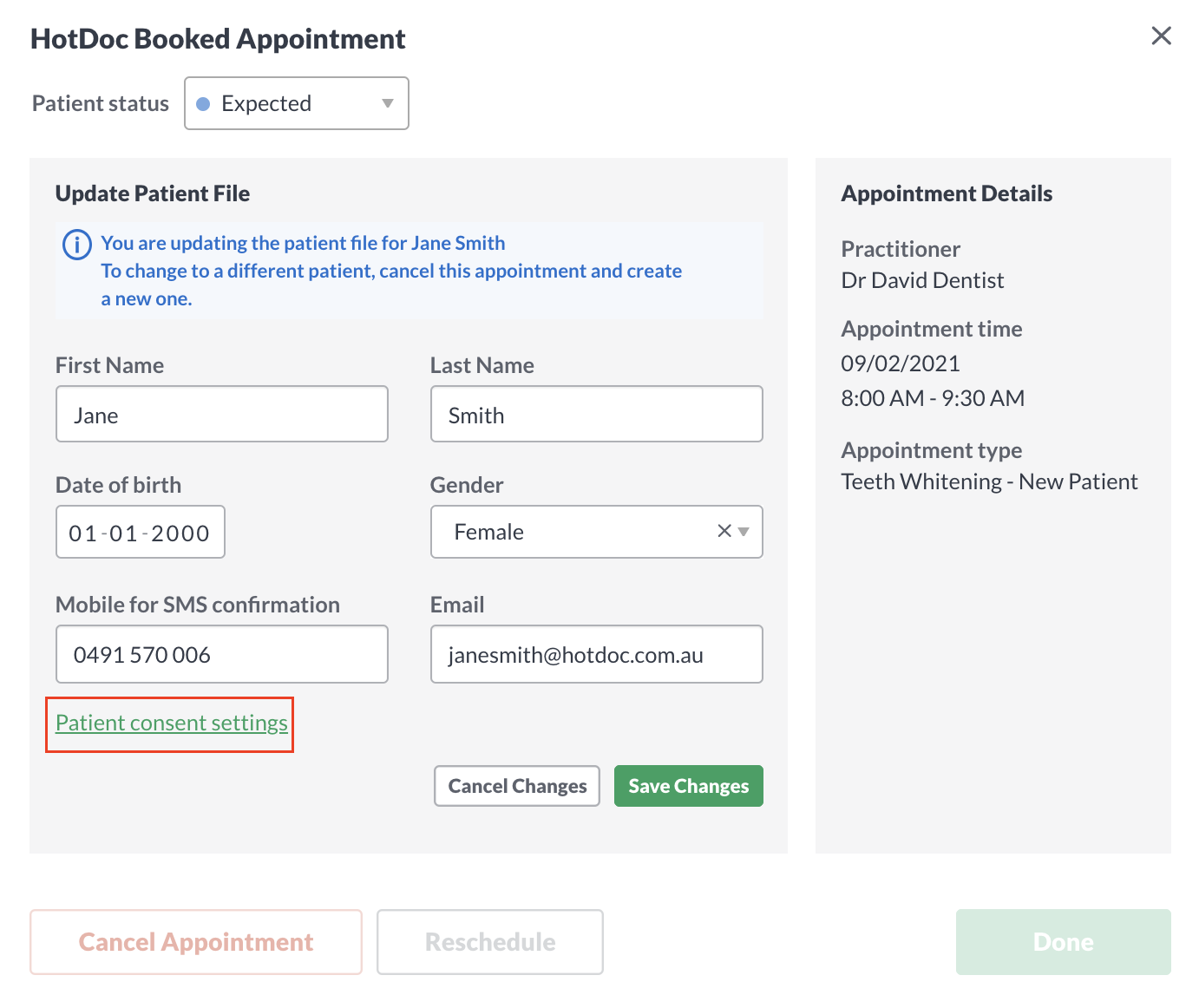 Alternatively, you can search your HotDoc database by selecting the Patient Search option in the left navigation: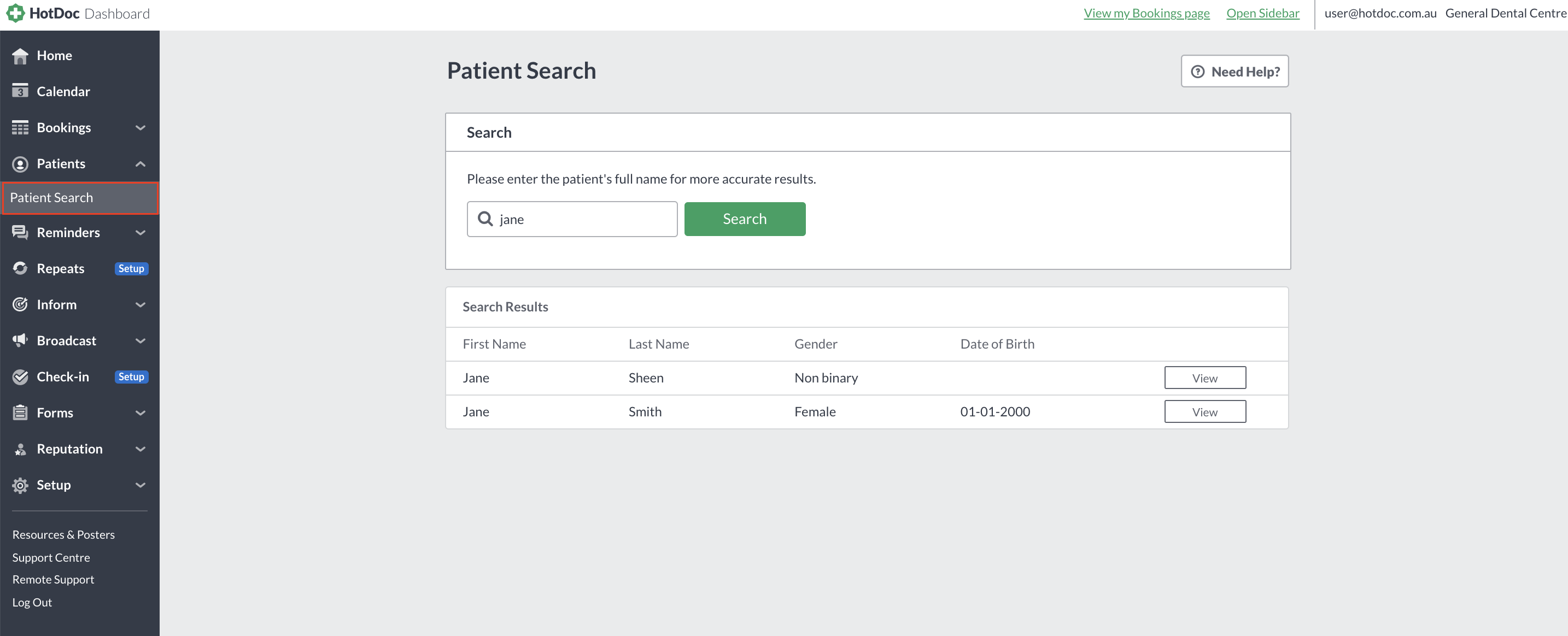 Upon viewing a patient's details via Patient Search, you can also change their communication preferences for receiving HotDoc communications such as appointment reminders.
To learn more about patient search, see How to manage patient consent with the Dashboard.

Managing arrival statuses
You may wish to manage arrival statuses within the Appointment Calendar so that practitioners, or other users of the HotDoc Dashboard can easily see where in the appointment journey a patient is at.
To change the arrival status of a patient, firstly select the appointment:




In the Appointment modal, select the drop down menu next to Patient Status and select the new arrival status you wish to move the appointment into then select Done:




The appointment tile will change colour according to the new status, of which a key is available at the bottom of the Calendar view:



Adding a note to an appointment
The HotDoc Appointment Calendar allows you to add notes to each appointment if required.
Select the appointment in the Calendar to open and select +Add Notes under Appointment Notes:




Type your note and select Save Changes:




To edit or delete the note, select Edit, make the change and then select Save Changes again: