HotDoc Forms is a secure digital form that easily allows new patients to fill out their details prior to their initial appointment. Using HotDoc Forms can:
Reduce the amount of time a patient spends in the waiting room

Ensure information required by a doctor in an initial consult is filled out in advance of the appointment


Save reception time by automatically writing back parts of the form to the patient file

Minimise the likelihood of clerical errors by providing the practice with an online version of the form that saves automatically to the patient file
This guide covers the essentials of setting up your New Patient Registration Form. If you are doing this for the first time, you will be required to complete all sections below.
Once set up, you will be able to allow patients to complete their form digitally before they arrive at the practice and HotDoc will automatically enter some of the patient's information into their patient file.
1. How does the New Patient Form work?
HotDoc's New Patient Form allows you to digitise your paper forms and automatically send a link to your new patients in advance of their appointment time.

HotDoc's Forms or 'New Patient Registration' solution works by automatically sending a link to any new patient when they make a booking at your practice. We have developed this to save both you and your patients time, but also because our research showed that patients prefer to fill in their new patient forms ahead of time.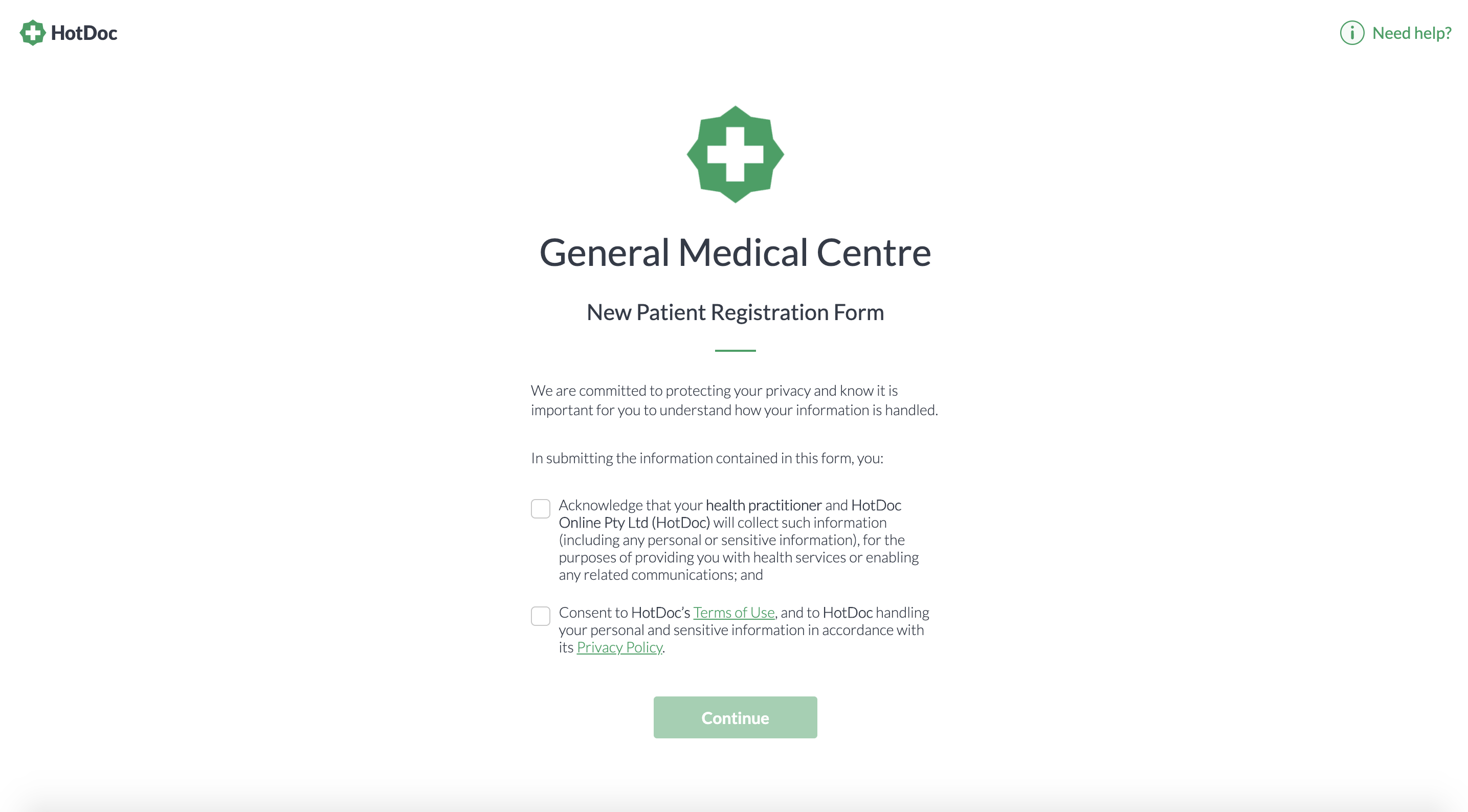 Example of a HotDoc New Patient Registration Form


The link we send contains access to a digital form which the patient will enter their details. How we determine they are a 'New Patient' is based on the following:
If the patient has made a 'New Patient' booking via HotDoc
An appointment is entered manually into the book as a 'New Patient' appointment type
If the patient file was newly created within a 3 hour window of their first booking
If the appointment was made based upon any of the above conditions, we will send a SMS or push notification to the patient with the link to the form.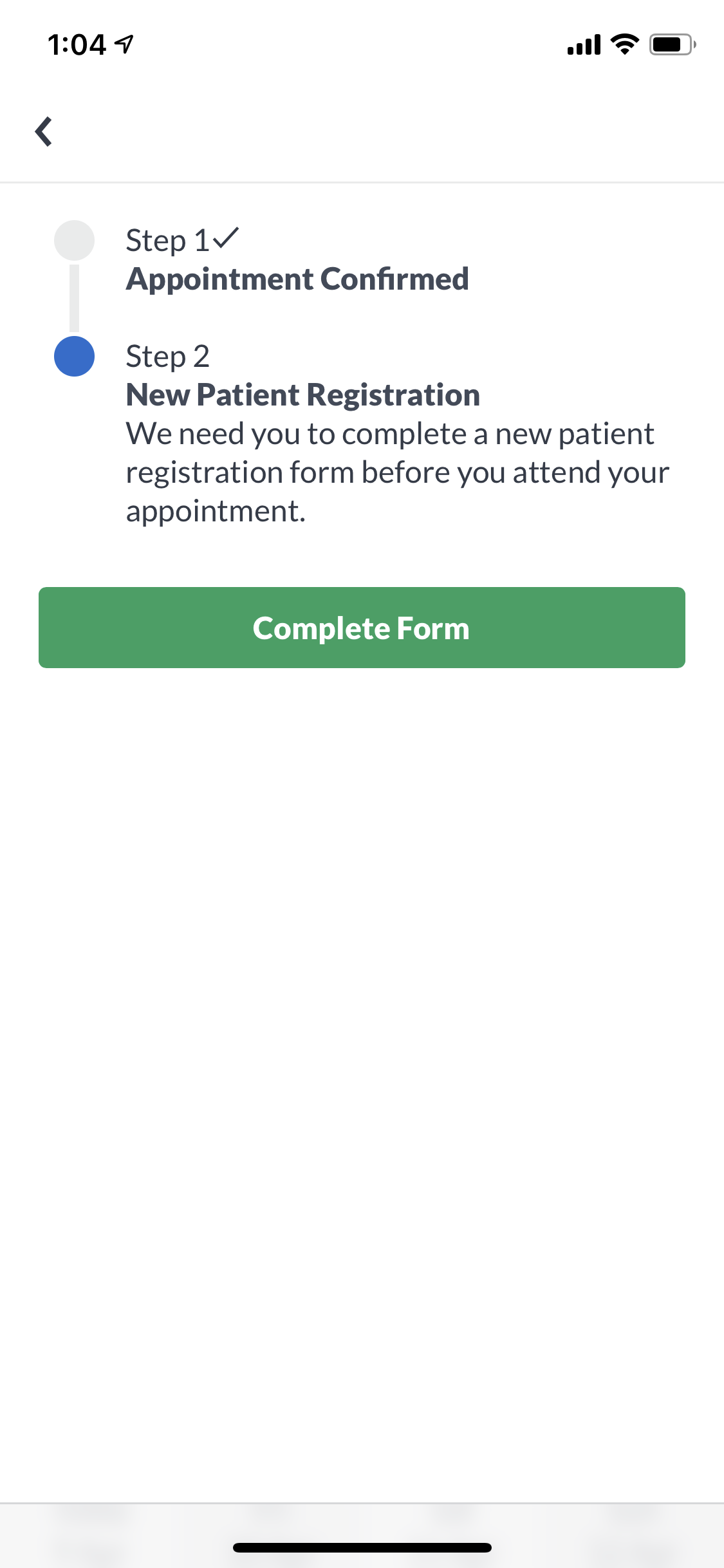 Example of the form link for a booking made via HotDoc

The patient can fill the form in on their mobile or computer and submit the form prior to their appointment time.
Once submitted, HotDoc will automatically write the main details of the form back to your clinical software. HotDoc will also save a PDF version of the form to your clinical software. We then send the submission to your HotDoc Sidebar to review any fields that could not write back (e.g. custom questions or some clinical data).
Once reviewed, the form goes into your 'completed' list. The form will stay viewable for 30 days from submission and will automatically clear after that time.
2. The Patient journey

We understand that using an online system to process your new patient registration forms can be a different experience for your practice and patients. By reviewing the patient journey, you and your team will be able to know what to expect and confidently preempt any concerns or questions.
HotDoc's New Patient Form has been developed to securely send a link to the patient who's made the booking.
3. Create your Form
HotDoc allows for two types of forms so you can match your current new patient form as closely as possible. You can choose between:
The Demographic form - a shorter form that captures only main demographic information

The Clinical form - a longer and more detailed form for capturing clinical history.
Please note, once you have selected your preferred form type, you are able to customise and remove questions.
We recommend ensuring your form is not too long to ensure the patient finishes their submission. In some cases, practices will capture the demographic information via HotDoc online and ask the patient to fill out the clinical information when they arrive for their appointment.
To create your form, navigate to your HotDoc Dashboard > Forms > Forms > Create new form and follow the instructions in the link above.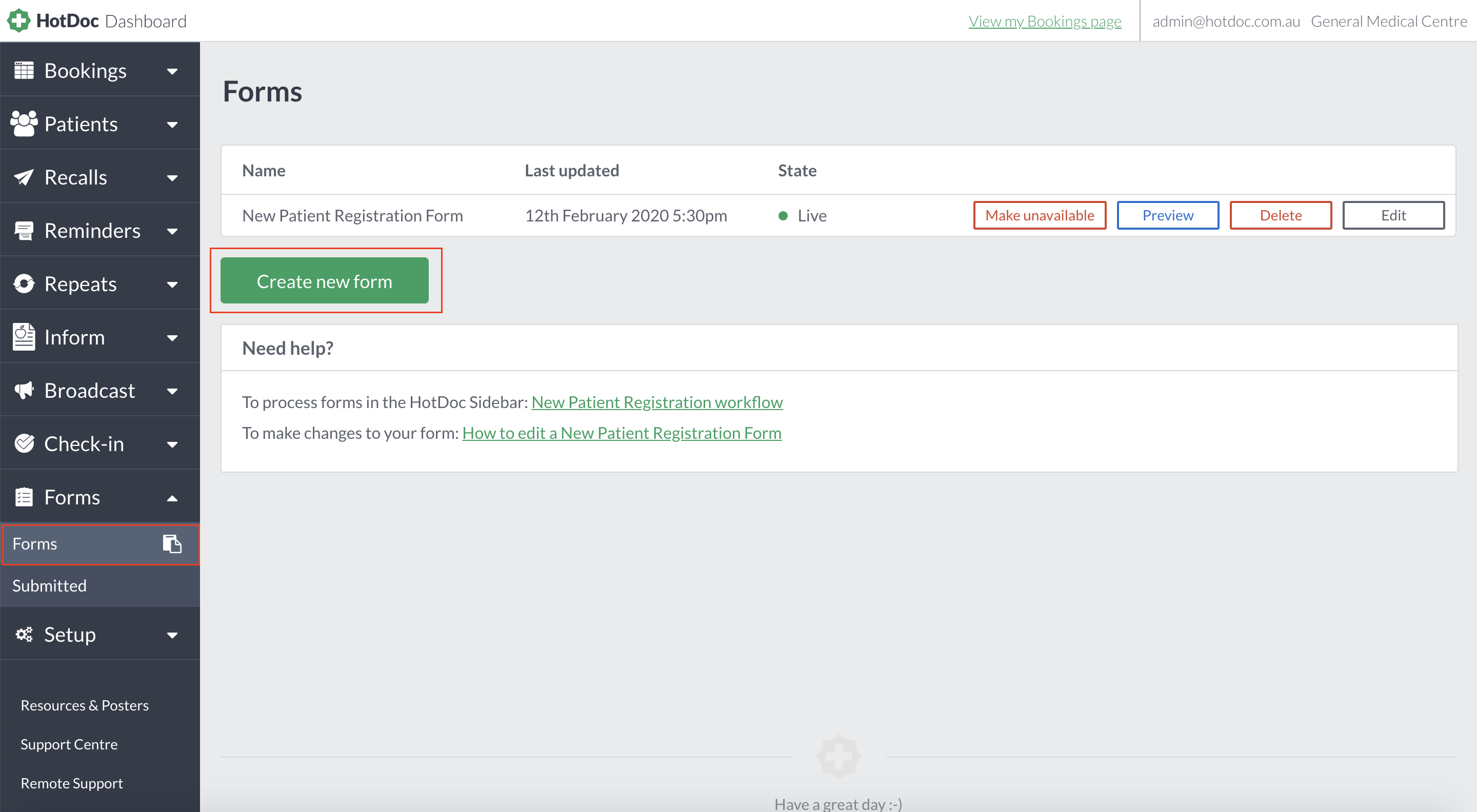 After your form is created, we recommend clicking the Preview button so you can go through the form as if you were a patient. This allows you to double check the options you've chosen and any spelling or grammar that may need to be adjusted.


4. How to process your form submissions

As patients submit their forms, you will be required to process them within the HotDoc Sidebar. Some details will be automatically processed, while others will need your team to copy and paste manually into the patient record.
ⓘ Why is this important?

Now that you have created your form, it's important that your team is familiar with how to process the forms into your clinical software as they are submitted. This will ensure the patient's form is completed and their file is updated before they arrive at the practice.
Firstly, we recommend that your team checks the HotDoc Sidebar every morning by clicking the Menu button and navigating to the New Patient Registration section to process any new forms:



Once in the New Patient Registration section, your team will need to process some parts of the form submissions. To learn how to manage your submissions, please see New Patient Registration workflow.

5. How to generate a PDF version
As the patient submits their form, we can automatically write back a PDF version of the form to your clinical software. See Downloading PDF form submissions to learn how this works.

To save your team further time and resources, HotDoc will automatically save a PDF version of the patient's form. This feature is dependant on the version of your clinical software.
You also have the option to manually download a PDF version of the form to save elsewhere by selecting the Download PDF button in the HotDoc Dashboard: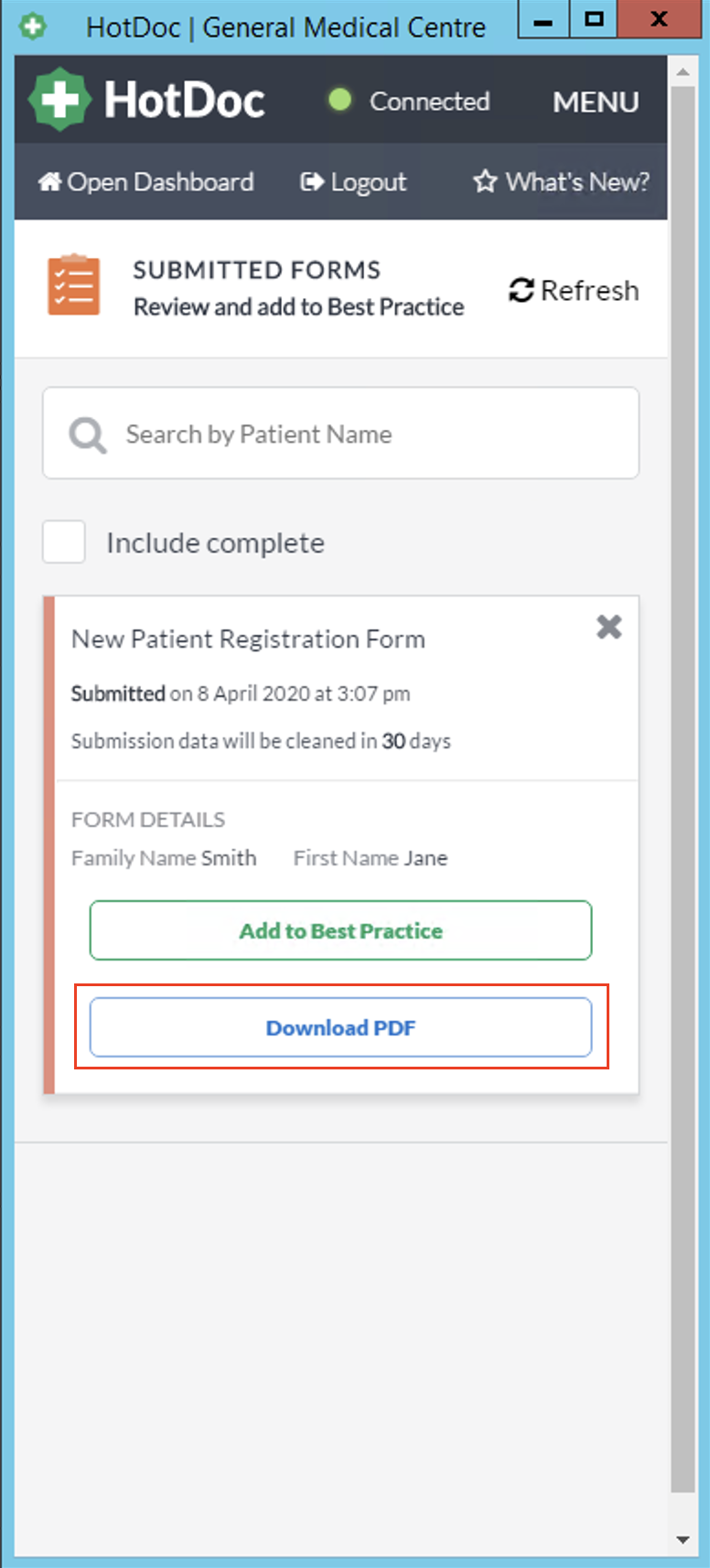 Example of the manual Download PDF button
6. Educate and train your team
Once your form is set up, we recommend that you take your team through the form to ensure they are ready to go live.
7. Switch your Form to Live Mode
Congratulations! You have now completed the setup of your New Patient Registration form. All that's left to do is to switch it to Live mode so we can start sending the link to your new patients!
Once your form is set up and you have trained your staff, you should be ready to turn the form on through the HotDoc Dashboard. The form will then be available to all new patients to fill in.
To switch the form to Live Mode, navigate to your HotDoc Dashboard > Forms > Forms. You can then see your form in Preview mode:



Click the green 'Make live' button on the right-hand side:





You will then be prompted to confirm you are ready to switch on the form, click Yes, make live:





From here, keep an eye on your Sidebar for form submissions!
Go ahead and check out our New Patient Registration Form Support section for further resources and to search for frequently asked questions.