If your practice is looking to, or has recently updated to BP Premier Indigo SP1 or higher, there will be some changes to your workflow for some products.


How does upgrading your BP version affect HotDoc?
When upgrading from an older version of BP to BP Premier Indigo SP1 or higher (Jade and Saffron), you may find that some functionality of HotDoc will change.
See the below table to understand the changes to your workflows per product: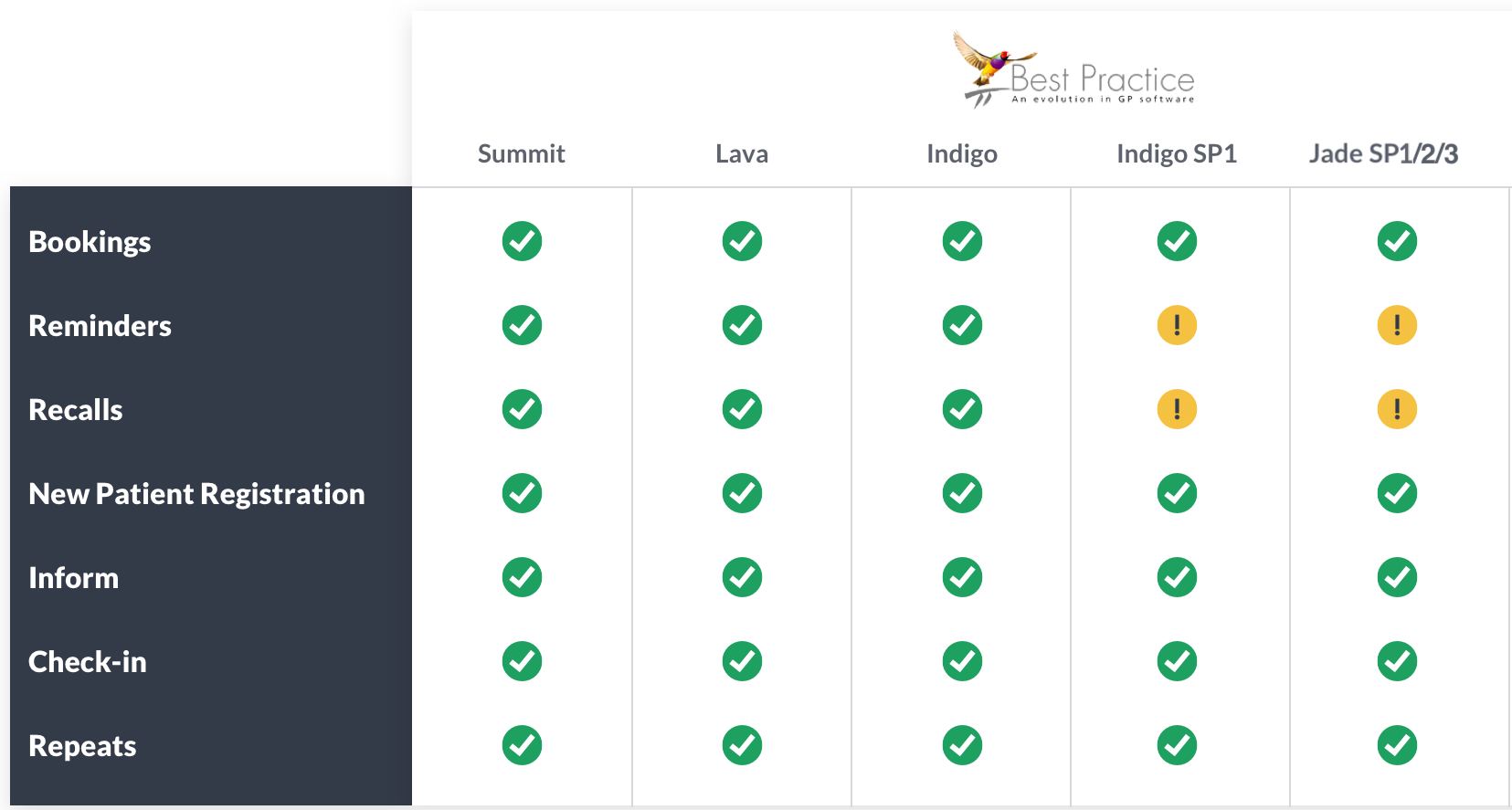 Green: Full functionality
Amber: You can continue to use the product, however there may be some changes to your workflow



SMS Reminders and Recalls

When updating to Best Practice Indigo SP1 or higher, you will need to start managing all patients SMS consent preferences in HotDoc Sidebar.
You can continue to send SMS Reminders and Recalls as usual however if you update a patients consent preferences in Best Practice, it will no longer update in HotDoc
In other words, if a patient is opted out of SMS communication through Best Practice, you will not see this update within HotDoc and the patients may be sent an SMS Reminder or Recall



Will my patients still receive SMS reminders and recalls if I upgrade to Best Practice Indigo SP1 and above?

Yes. Your patient consent settings will remain in HotDoc, and we will continue to send these important messages even after you upgrade.



Will I need to get new SMS consent from patients who we have already received consent from?



No. HotDoc has kept a record of your patient consent settings and will continue to send SMS' according to your patients' preferences.



How do I manage my patients' SMS consent with HotDoc?



Your patients can opt out from Appointment Reminder SMS at any time by replying STOP to the SMS using HotDoc. If you have an existing or new patient that you would like to opt-out yourself, you can do this in HotDoc by simply clicking on the patient's name in your HotDoc dashboard patient search and ticking the box for their SMS preferences.
This is faster and simpler and gives the patient a way to manage their consent themselves. It also doesn't require any extra work, as HotDoc will have a copy of all patient consent preferences prior to the update.
For further information, visit How to manage patient consent with the Dashboard

How do I set SMS consent for new patients?

If you are adding a new patient directly into Best Practice or using a paper registration form, you will need to follow the process above to set the patient's SMS consent settings in HotDoc. You can do this from within the HotDoc Dashboard under Patient Search or through the HotDoc Sidebar.
Can I still send SMS clinical recalls if a patient doesn't want SMS appointment reminders?



Yes, if the patient wants these to be sent via SMS. HotDoc SMS consent allows your patients to set individual settings for:
Appointment reminders

Clinical recalls and results

Health information, such as flu season broadcast messages

Can I use the SMS consent settings in Best Practice instead of HotDoc?



If you would like, you can keep your patient consent settings up-to-date in Best Practice. Just remember that if the change isn't made in HotDoc as well, a patient who has opted out will continue to receive SMS messages, and a patient who has opted in will not receive SMS messages. This is why we don't recommend this method.


Can I continue to use both Best Practice and HotDoc to send SMS messages?
If you would like to continue to use both providers to send SMS messages to patients (for example: Sending appointment reminders through HotDoc and Recalls through Best Practice), you can continue to do so; however, if a patient opts-out of any messages, you will need to manually update this information in both Best Practice and also HotDoc to ensure you're compliant with your patients consent preferences across both software.
This is why we are recommending using HotDoc solely to manage all of your patient communications and consent. If you need help transitioning from using Best Practice to HotDoc for certain message types (like now sending Recalls through HotDoc), please contact your customer success manager for free training and help.
New Patient Registration Form
Are there any other patient data fields impacted by this change?



When a patients mobile number is updated within HotDoc it will need manual confirmation in Best Practice.
HotDoc will continue to write back all other patient data to Best Practice when making a booking or processing a New Patient Registration form.