HotDoc Bookings allows you to customise the appointment types that are shown online to your patients so that they are in line with the types in your clinical software.

Training Video
What is an Appointment Type?
Appointment Types are required to be set up in the HotDoc Dashboard so that a patient can choose a reason for their booking as they request an appointment.
Appointment types are helpful for guiding your patients to book appointments specific to their needs. Examples of common appointment types are:
Standard Consult
Long Consult
Skin Check
Travel Vaccination
Cervical Screening Test
Once added, you will see them appear on your online bookings page under the What is the reason for your appointment? section: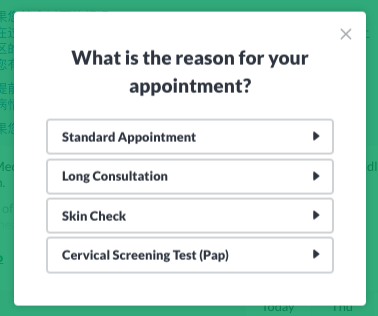 How to add or edit an Appointment Type
Login to the HotDoc Dashboard using your Clinic User.


Select the Bookings then Appointments tab on the left of the screen then select New Appointment Type in the top right corner if you would like to make a new appointment type:



Alternatively select Edit if you would like to make changes to an existing appointment type:




You will then need to add or edit the appointment type name exactly as you'd like patients to see it, then you can enable the following settings as described below. Click to enlarge the image:





If you would like patients to leave a note, please see Pre-Consult Notes


If you selected invite them to call the clinic or inform them they cannot make an appointment, patients will see the following on your bookings page:



The next section is only relevant if you wish to make the appointment type a Telehealth appointment type. If so, select the checkbox and the Patient eligibility options. See Telehealth Mode for further information:




The next section is only relevant if you would like to ask the patient whether or not they have a Referral for the appointment type:



To enable this, check the Ask patient if they have a referral box
Select whether or not a referral is required to book an appointment
Depending on your above settings, set your message advising patients why they cannot book or the conditions for bookings without a referral
Select whether or not the patient is required to upload a copy of their referral





Once a patient uploads their referral and requests an appointment online, y

ou can access this in the

Dashboard

by going to

Bookings

>

Bookings History

> Click the

arrow

next to the booking and select

View Referral:




Please note:The referral link will expire 30 days after the appointment date. If the appointment has been cancelled, it will expire 30 days after the date of cancellation. It will then say Referral preview expired.Please review Referral Uploads - The Patient Journey to see how this process appears to patients.




Patients can upload multiple

PDFs or images

of their referral(s).
The file format

we accept are

PDF, JPEG, JPG, PNG.





Under Templates for Practitioner Setup decide if that appointment type is for:

New and/or existing patients

Default appointment length

How far in advance patients can book an appointment

Enter any Terms and Conditions the patient must agree to when submitting the booking (e.g. arriving early to the appointment or information about billing)



These default settings should be what the majority of your practitioners prefer for that appointment type. You can still adjust for individual practitioners in the Practitioner Setup.



Link the appointment type to the applicable appointment type in your clinical software:




You can also select if you would like to accept cancellations for this appointment type (see Why is a patient unable to cancel their appointment? for more information):




If you wish to make this a 'Tandem' appointment type (where two appointments are booked at the same time, select Add Supporting Practitioner. To learn more about setting up a Tandem type, see How to create a Tandem Appointment type:




Next, you can activate the appointment type for any of your practitioners by checking the boxes next to their name for both new and existing patient types:





Lastly, save any changes you have made by selecting the green Save button at the bottom of the

screen:







How to remove an appointment type
If you would like the delete the Appointment Type entirely, select the Bookings > Appointment Types then Delete on the type you'd like to remove:




You will then see an 'Are you sure?' alert box. Click Yes, Delete if you still wish to go forward with the removal: