HotDoc Online Bookings is an easy and convenient way for your patients to book an appointment with your practice at any time. Using online bookings can:
Increase the number of bookings your practice receives

Reduce the amount of time your reception team may spend making appointments via phone

Allow your patients to book with you 24/7, at a time that suits them

Provide your patients with in-app notifications and reminders of their bookings
This guide covers the essentials of setting up your online bookings profile. If you are doing this for the first time, you will be required to complete all sections below.
Once set up, patients will be able to choose which appointment, doctor and time they would like with ease, regardless of whether they visit the HotDoc website, app or your practice's website.

1. The Patient Journey
Before we get started with setup, it can be helpful to review the HotDoc Booking journey for a prospective patient.
In doing so, you can be better informed about how best to set up your profile so that it reflects your practice, practitioners and appointment types.
To review the journey, see Online Bookings Patient Journey. Alternatively, you can get a more hands on experience by looking at the HotDoc website or downloading the HotDoc app.
2. Setting up your practice profile
Before we get into the details of setting up your appointments and doctors, let's get your practice profile created (see Editing your Practice Profile)

Now that we know how a patient makes a booking, the first step to setting up online bookings is creating your practice profile.
Your profile displays your practice's information on your HotDoc bookings page and gives the patient a sense of what kind of practice you are. It can be customised to show alerts, billing policies and other important information: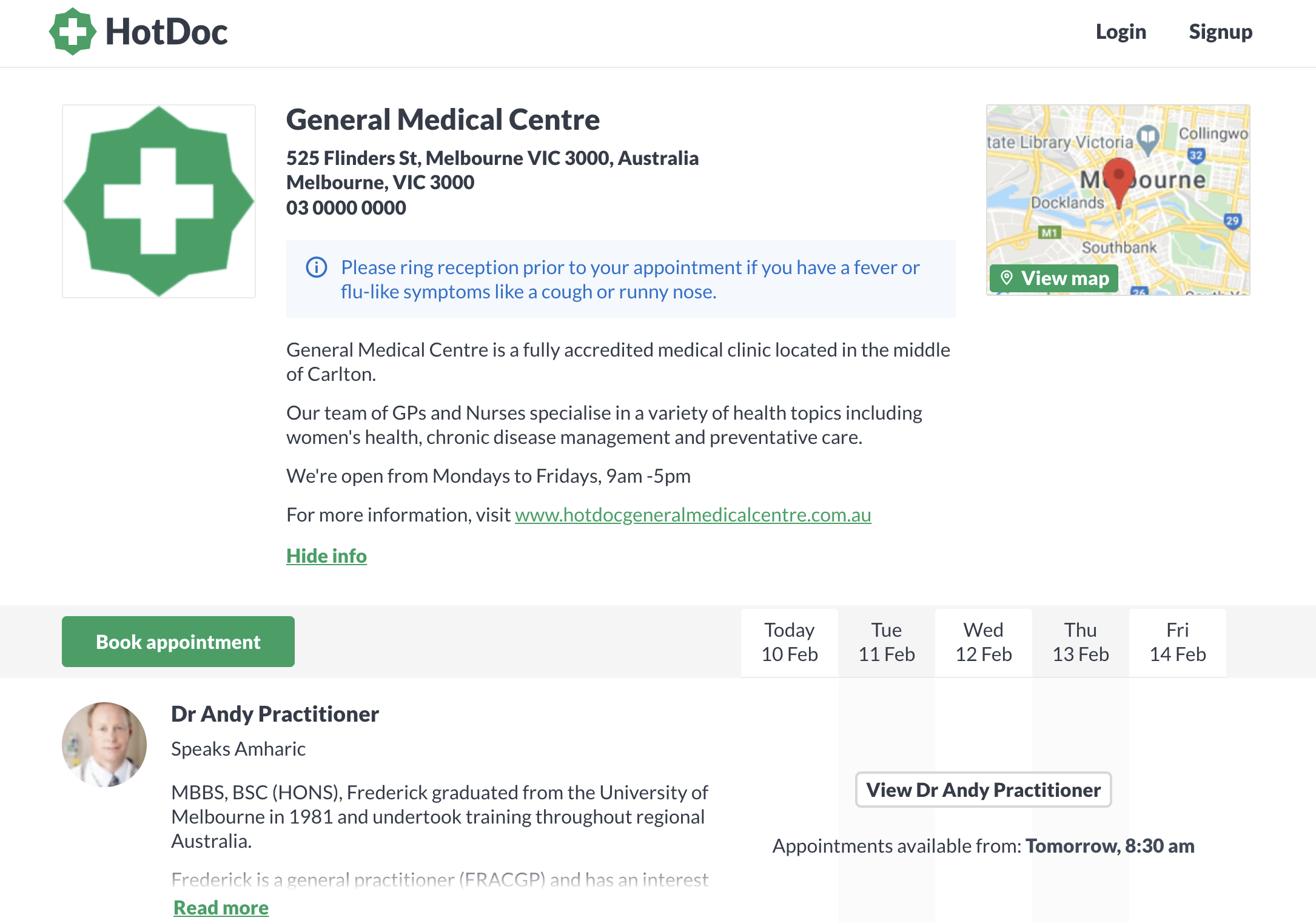 Example of a header for a Practice Profile that displays contact information, alerts and your Practice summary (About your Practice)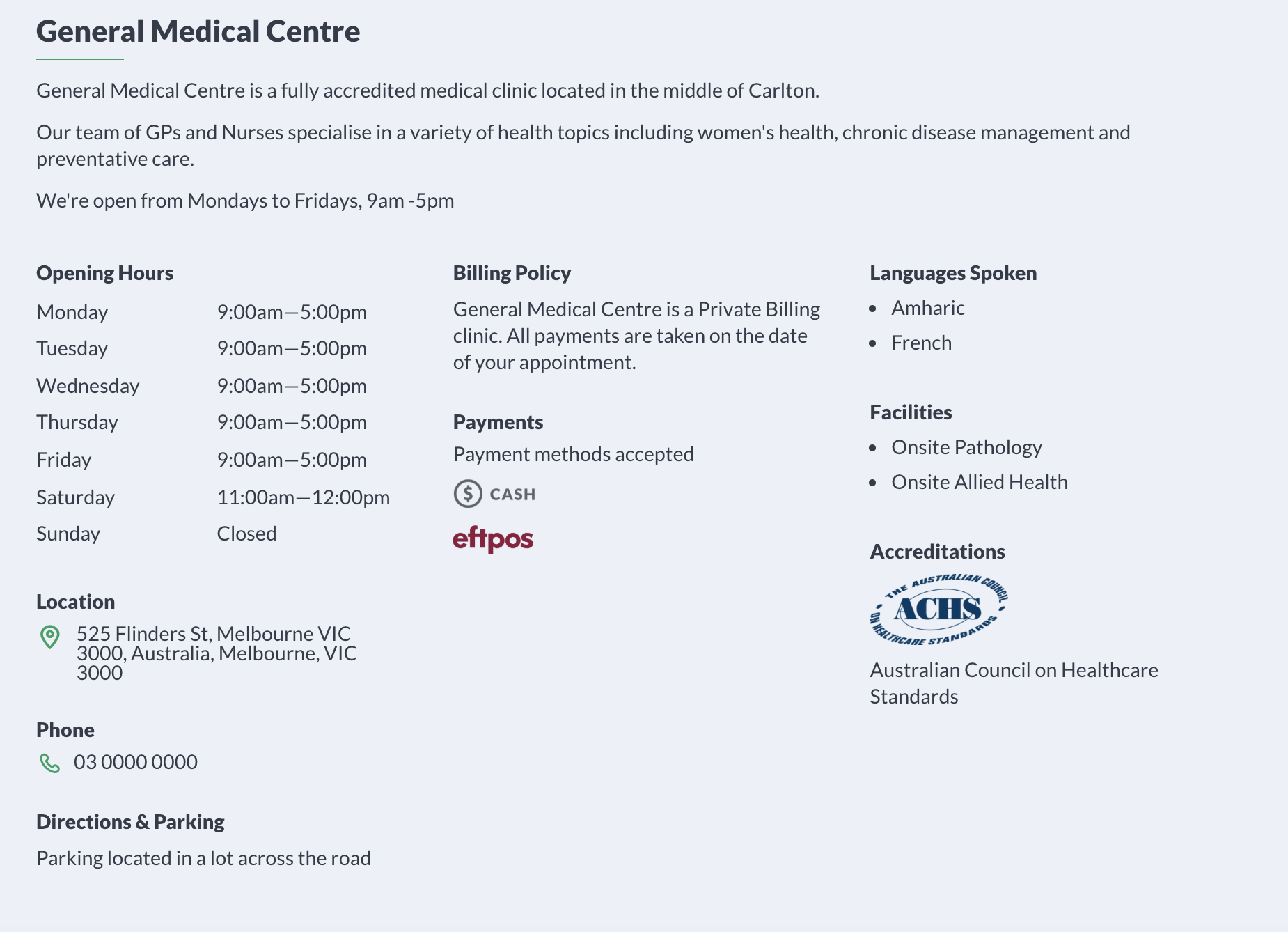 Example of a footer for a Practice Profile which displays further information such as billing, opening hours and onsite facilities
3. Setting up your appointment types

Your appointment types are displayed during the patient's booking journey. They inform the variety of consults that your patients are allowed to book online.
Setting up your appointment types will allow HotDoc to guide your patients to make the correct booking for their needs. It will also allow you to link HotDoc appointment types to the appointments you already have within your clinical software.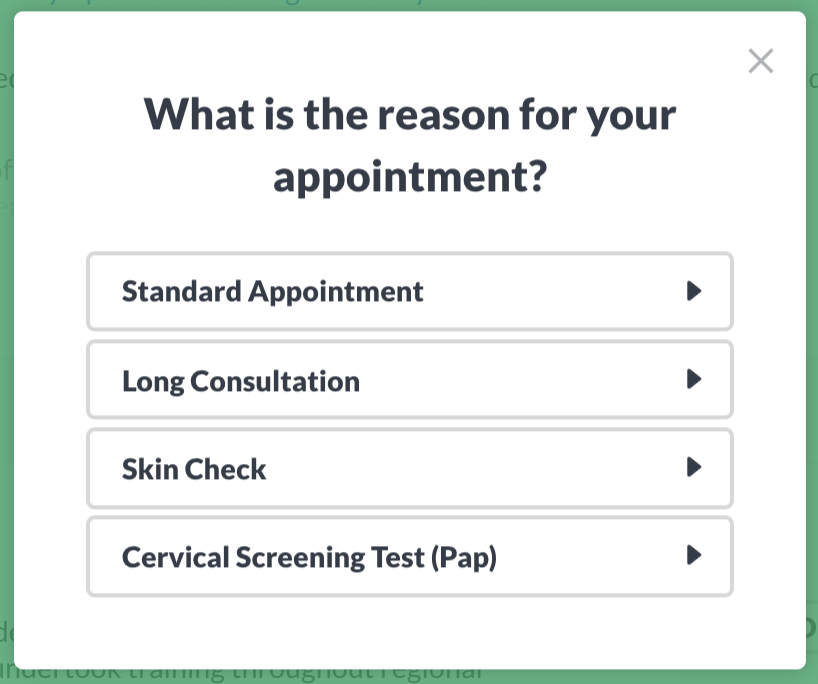 Example of appointment types being displayed during the online booking journey
4. Setting up your Practitioner Profiles
The next step requires you to create your Practitioner Profiles so your patients can choose which practitioner they would like to book with (see How to add or edit a Practitioner)

Now that you have your appointment types set up, let's create your practitioner profiles. HotDoc allows you to customise the content you display for your practitioners down to their education, specialties and even the languages they speak.
We recommend that you enrich your practitioner profiles with information so new patients can make an informed decision based upon their preferences. Practitioner profile content also increases the practitioner's ability to be searched by patients.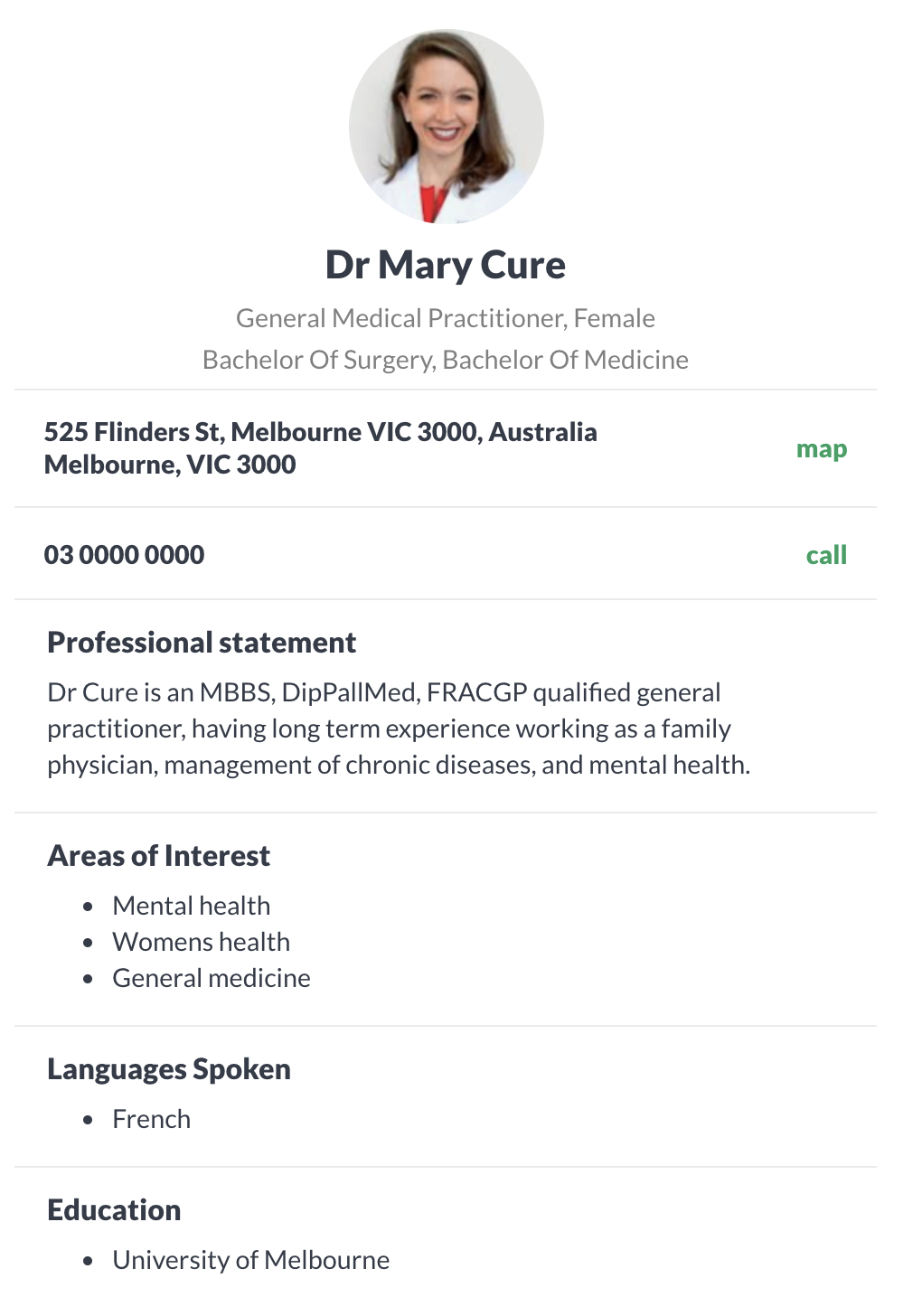 Example of a profile on a practice's booking page that has been customised with information specific to the practitioner
Now that your practice profile, practitioners and appointment types are all setup, feel free to select the View my Bookings page button in the top right corner of the Dashboard to view your settings.
ⓘ Want to see your Bookings page?
5. The HotDoc Sidebar
With your bookings page all setup, let's learn about the HotDoc Sidebar.

The Sidebar is used to catch the occasional mistakes patients may make while booking. Correct use of the Sidebar will prevent duplicate patient files and will make sure the right patient is entered into your books.
It's important that your reception team understand the HotDoc Sidebar before going live with HotDoc Bookings. If the Sidebar is not managed, your appointments may be confirmed to the incorrect details.
To help train your team, it is strongly recommended that you go through all the content in the following links.
ⓘ Why is the Sidebar important?
Start by opening the Sidebar and logging in with your clinic user details. Next, review the content below:
Next, we can take look at some of the extra features of the HotDoc Online Bookings system:
If you have patients that you don't want to be automatically entered into your appointment book you can use Patient Alerts. Some of the reasons practices may use this feature range from patients who consistently do not attend their bookings or have shown unwanted behaviour in your practice. To add a patient alert, see How to create a Patient Alert.


Another handy feature is Hide Sessions. Hide sessions is the quickest way to make times unavailable for online bookings. Practices use it to mark off weekly walk-in sessions or as the fastest way to notify patients booking online that a doctor is sick. To hide a session, see How to hide a session.


6. The HotDoc Bookings Widget
Finally, an important step in getting bookings live for your practice is adding a booking button (widget) to your website.
A bookings widget will allow patients who organically find your practice's website via Google or other search engines to make an online booking, increasing your potential booking numbers.
ⓘ Why should I add a bookings widget?
You can find the steps to build the type of button you'd like in the guide How to install the HotDoc widget / lightbox on to your website.
Once you've generated the code from the above guide you can email it to your Web Developer to add it to your website.
Congratulations, you're ready to go with HotDoc Online Bookings! Go ahead and check out our Online Bookings Support Centre for further resources and to search for frequently asked questions.