As HotDoc syncs your reminder reasons into the Dashboard, they will need to be assigned to a template so we know what kind of communication to send.
A number of popular templates are pre-populated already when you start using Clinical Reminders. You can edit these templates, add more to meet your needs and remove them when they are no longer used.
Review this article or the video below to learn how to edit, add and remove a template.


How to edit a Template
Because HotDoc will pre-populate templates as part of the Recalls product, it is likely there may already be a template that exists which meets your needs. It is recommended that you first edit existing templates where possible.
Navigate to Recalls > Template groups in the HotDoc Dashboard. This page shows the list of pre-populated templates HotDoc has set up as a default for your practice, as well as any template you may have created in addition.


Select the Edit Template button on the template you wish to edit:





Follow the steps in the Template Settings section to learn how to change and edit the template.
How to add a Template
If a Recall template does not yet exist that best matches your recall reason, you may need to create a new template.
Navigate to Recalls > Template groups > Click 'Create New Template' button:




Here, you can either select a template to start from if it's similar to an existing template. Select the template by clicking on the drop-down menu bar. If it doesn't match an existing template you can skip this step.



Select a template from the drop-down menu to start from. Alternatively, you can leave this field blank and create your own template from scratch by entering a new template name in the field below:






Follow the steps below to assist with editing the template settings now your template has been created.
Template Settings
The Template Settings page allows you to edit and customise a number of settings related to your recall template: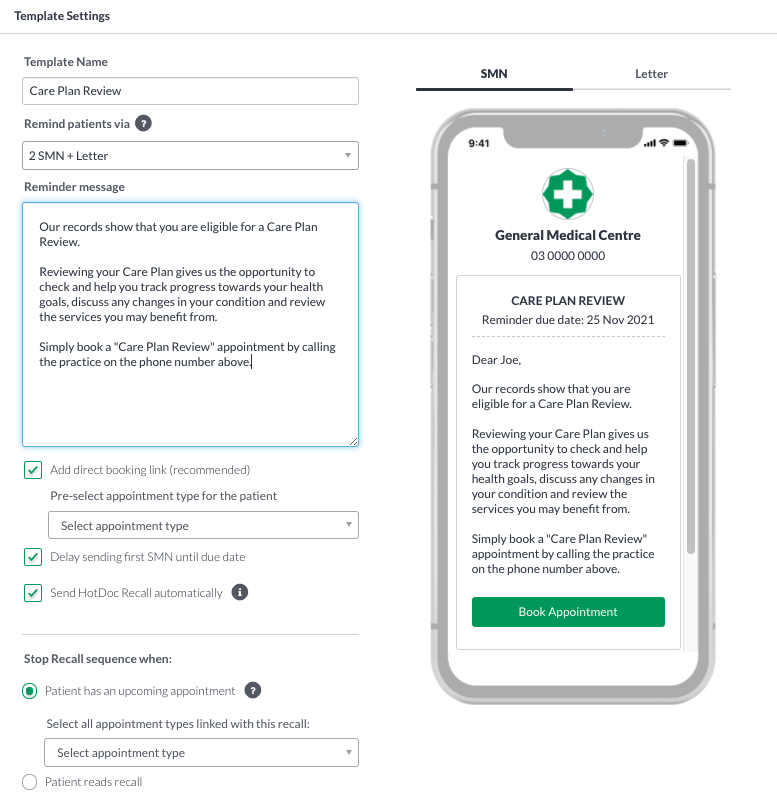 You may wish to start by reviewing the name of the template if editing a pre-existing template. We recommend the name is patient-friendly as it's shown to within the SMS Recall:





Next, decide how many contact attempts are sent to a patient and if a letter and/or call is required.

Each template is defaulted to remind patients via 2 messages 7 days apart, followed by a letter. You can choose an option from the drop-down list that matches your practice preferences:




Check the default message and adjust the Reminder message. This message is equal to what would have written in your letters before using HotDoc and will be displayed to your patients after they verify their DOB and surname in the SMS recall link:




Below the Reminder message, you have a number of options to control how and when the message is sent to the patient:




A

dd direct booking link:

t

ick this option if you want to allow patients to book online for that Recall type if you use HotDoc Online Bookings.

You can also select the appointment type that you would like the patient to book from the Pre-select appointment type for the patient drop down:





We recommend you have this on for as many templates as you can to ensure patients are encouraged to make a booking and to save your reception team from facilitating phone bookings.



If you unselect this feature, the 'book now' button will be removed and the patient will need to call the practice to request a booking.


Delay sending first SMN until due date: This option allows you to decide if you want the first SMS message to delay until the due date (recommended for Recalls such as care plan reviews, so patients don't come in too soon).

Note that this setting only applies clinics using Best Practice, Medical Director and Zedmed.


Send HotDoc Recall automatically:

This option is used to determine if HotDoc sends this template automatically. If unchecked, the recall will

immediately pause when it is synced into the Dashboard and will need to be manually resumed instead. For more information, please see: How to pause your Recall Templates

If you are just starting with HotDoc Recalls, we recommend you use this setting to activate your templates when you are ready to start sending out SMS messages. Just set templates to manual first, then switch to automatic when you're ready to go live!



The last section of the template will determine when HotDoc stops sending an SMS to the patient. There are two options:



- Patient has an upcoming appointment:

Select this option if you would like the patient to continue to receive SMS communication, as per the template's sequence, until they book an appointment.

The Recall sequence will only pause when the patient books an appointment. Learn more on our pause on booking feature here

- Patient reads recall: Select this option if you prefer that the patient will continue to receive SMS communication, as per the template's sequence, until they verify their details and reads the Recall message.



Lastly on the right-hand-side, you can see a preview of your template.

T o

view the template in either SMN or Letter format, toggle the options above the phone image:




When you are happy with the changes, please ensure you hit the green Save button:


How to remove a Template
To remove a template group, you must first make sure no reasons are still

assigned to the template. See

How to remove a reason from a Template Group to learn more.


Once all reasons are removed, navigate back to the

Template groups

page and select the

Delete button for the template you wish to remove: