As reasons are synced from your clinical software into your HotDoc Dashboard, you will need to assign them to Template Groups so HotDoc knows which communication to send out.
There are a couple of places you can assign a reason in the HotDoc Dashboard:

The Template Groups section
The To Action screen


Which option should I use?
The Templates Groups section in the HotDoc Dashboard provides an overview of Templates so you can easily manage the reasons assigned to each of them. If you have a number of new reasons synced, or if you've incorrectly assigned a reason, it may be best to use this section to assign and un-assign as needed. This screen is especially helpful for practices who need to manage the use of free type reasons in their clinical software.

The To Action screen is a great option for quickly assigning reasons as you are working through other recalls that require your attention..

Follow the steps below to see how to assign a reason using either the Template Groups section, or the To Action screen.


How to assign a Reason using the Template Group section
Login to the HotDoc Dashboard using your HotDoc login.


Click on the Recalls option in the menu to the left of the screen, then select Template Groups. This page shows all the templates for both Clinical Reminders and Results, the reasons associated to each template, which sequence the template is assigned to, and whether the template is set to send automatically or manually (if paused).





You can now see a list of all templates and reasons currently assigned. You can search for either Templates or Reasons by using the appropriate search bar. Searching will also return partial matches. For example, searching "scopy" would return "Colonoscopy".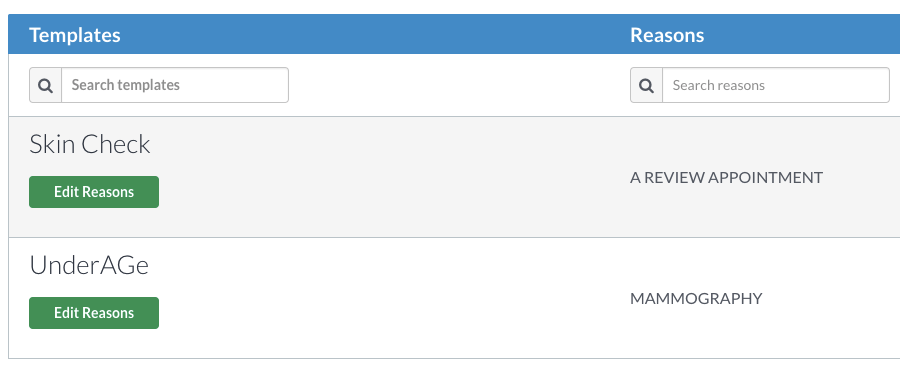 Select Edit Reasons to either Add or Remove reasons to a Template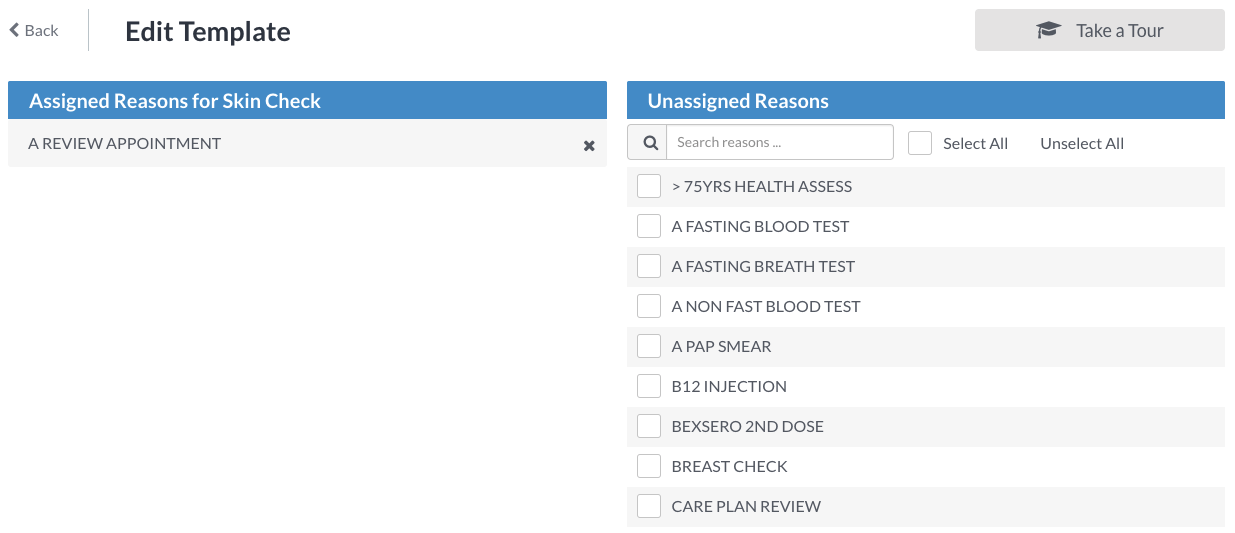 To Add Reasons, find the reasons you wish to add to the template and add them by selecting the box next to the reason. This should turn the box green and add it to the Assigned Reasons list. You may also search for reasons. If you want to add all reasons, use the Select All feature – this will add all reasons that are currently displayed.

Once you have finished adding reasons, select Save. This reasons will be attached to the template over the next few minutes.

To remove reasons, select Edit Reasons. Click the 'X' next to the Assigned Reasons that you wish to remove.


Assigning a reason in the To Action Screen
When a recall comes through to the To Action screen with the status To action - New reminder type, select the recall by clicking anywhere along the recall itself:




A window will appear with the recall details. Select the green Get Started button to start the assigning process:




You can then select a pre-existing template to assign the reason to from the drop down menu:




Alternatively, if no current template meets your needs, you can select Create a new template to be guided through the creation process: