Best Practice - Medical Director (Pracsoft) - Zedmed - HotDoc Calendar
What is Caller ID?
Caller ID is a feature that can integrate with your PBX phone system in order to bring up a caller's details in your Sidebar when they ring through.
Caller ID works by matching an incoming call with any patient records in your practice software that have the same number, then surfaces those patients in the Sidebar.
How much does it cost?
Caller ID will incur a fee per clinic, based on the number of practitioners. Your first month is free with no obligations to continue to use the feature after the month is up. Please see the price points below: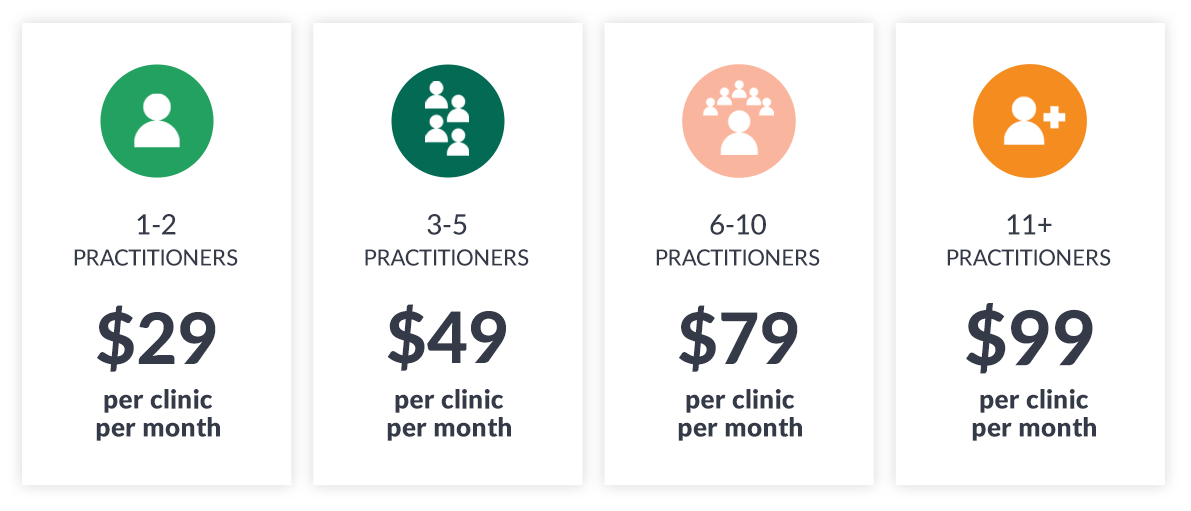 Who is it available for?
At this stage, Caller ID is available for Best Practice, Medical Director and Zedmed practices. We are looking to expand the feature to other practices soon.
What are the main benefits?
Caller ID can help you:
Identify patients quickly and accurately when they call

Instantly access key patient information

Provide a personalised patient experience
Which phone systems are compatible with Caller ID?
You can check whether your phone system is compatible during the set up process in the Caller ID tab of the Dashboard. For more information, please see: How to set up Caller ID
When will I start getting charged for Caller ID?
Your free trial period/billing will not begin until you have completed the Dashboard setup and received 5 calls from 3 unique numbers. If your phone provider is not compatible, you will not be charged.
Can I answer the call from the Sidebar?
No, you will need to answer the call as normal through your own phone system.
What happens if an inactive/archived patient calls in?
Currently, we can only retrieve active patients in the Sidebar. If an archived patient calls in it will come through to the Sidebar with no matches.
What happens if a patient who has a patient alert set up calls in?
If you have set up a patient alert for a patient in the HotDoc Dashboard when they call the alert will display in the Sidebar.
Does caller ID work in the web Sidebar?
Yes! Caller ID will work in both the web Sidebar as well as the installed version of the Sidebar.
Can I see missed calls in the Sidebar?
Yes! All calls, including missed calls, will be recorded in your Recent Call Log - see: How to view your Recent Call Log in the Sidebar. Additionally, 3CX customers will have access to a Missed call status - see: What does each call status mean?
How long will calls stay in my Recent Call Logs?
Calls will be automatically cleared from your Recent Call Logs after 12 hours. You can also manually remove a call from your logs by following the steps here: How to view your Recent Call Log in the Sidebar
Does Caller ID work for both mobile and home phone numbers?
Yes! We can match incoming calls from both mobile and home phone numbers.
What do I do if I change phone providers?
If you've already set up Caller ID and are changing phone providers, please submit a Support Request to discuss next steps by clicking the green Support button at the bottom of this screen.
Can I use Caller ID if there are multiple phone lines at my practice?
Yes! If your clinic uses multiple phone lines, Caller ID will still work. You will however need to cross check the number that you are answering with number in the Sidebar.
What does it look like when multiple patients call at the same time?
You will see a Sidebar notification with the most recent caller, however you will only ever see one notification at a time. The incoming calls will list in the Recent call log in a descending order, with the most recent calls at the top.
To quickly identify the patients details, we recommend looking at the phone number on your handset, and matching this to the number in the recent call log.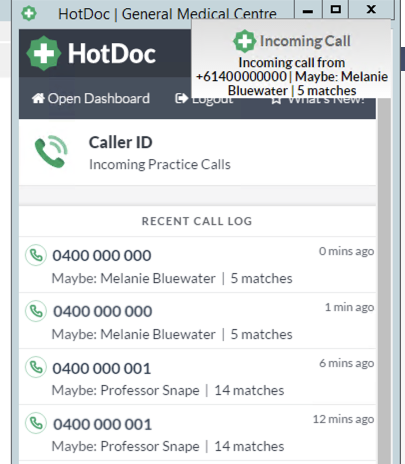 I'm stuck setting up Caller ID in the

call verification stage, how do I fix this?
You can check out our helpful guide using the steps in the following article Caller ID setup troubleshooting guide