You can access a full history of your Draft, Sending and Complete Broadcasts in your Dashboard, by going to Broadcast > Broadcast History. Please follow the instructions in this article to see how to view this and how you can reuse an existing broadcast message.
How to view Broadcast History
Log in to your

Dashboard.



Go to

Broadcast > Broadcast History:





Here you can see:

Start date: The date

that the Broadcast was sent

Name: The internal Name

of the Broadcast

Recipients: Broadcast recipients

(this will only populate when the Broadcast was sent

using patient phone numbers)

Patients messaged: H

ow many people were targeted

SMSs sent: How many people received

the broadcast

Status: indicates the status

of the Broadcast

Complete
Sending
Draft

Buttons: View, Reuse, Edit and Delete
Pages: Previous/Next buttons, and the number of pages to view your history.



From here you can take the following actions:

View button: View a Complete or Sending Broadcast


Reuse button: Reuse a Complete Broadcast
Edit button: View, edit and send a Broadcast Draft
Delete button: Delete a Broadcast Draft (cannot delete completed broadcast)


How to reuse a Broadcast
HotDoc Broadcast saves your previously sent messages so you can view and reuse them without having to create a new Broadcast. Follow the below steps to reuse a Broadcast that has already sent.
Log in to your HotDoc Dashboard and navigate to Broadcast > Broadcast History:




Click the Reuse button next to the broadcast you want to reuse:




Double check the details of the SMS to be sent out and the filters that you are applying (or upload your .CSV file if you aren't using target audience filters):




Click on the Next step button in the bottom right corner:




Review the details of your broadcast for a final time and select

Send Broadcast when you're ready to send:





After clicking Send Broadcast, you will be shown a final message confirming that you would like to start sending. This will display the total number of patients that will be sent the message along with the estimated cost.

If everything is correct, click the Send Broadcast to # patients button and HotDoc will automatically start to send out the SMS. You don't need to do anything else!
If you are not ready to send the Broadcast, click the Cancel button.


How to access a Broadcast draft
You may choose to save a Broadcast as a draft if you are not quite ready to send it. You can access your saved drafts via the steps below: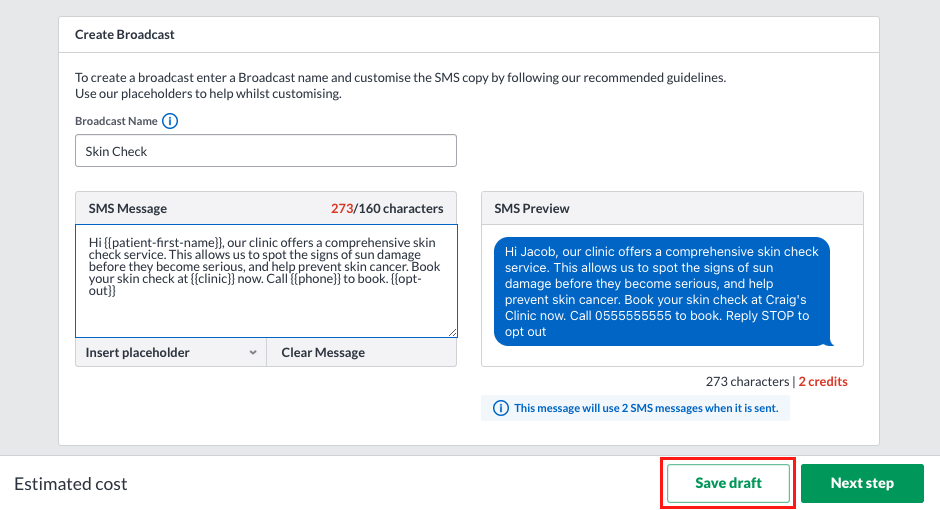 Log in to your

Dashboard.



Go to

Broadcast > Broadcast History:



Click the Edit if you would like to edit and send a previous saved draft. For more information, please see:
How to create a Broadcast SMS - If you're using Best Practice, Medical Director or Zedmed or;
How to create a Broadcast SMS - If you're using the HotDoc Calendar.



Click Delete to remove an old draft that is no longer required: