This article will explain how to temporarily disable HotDoc when you have to close your clinic due to unforeseen or sudden circumstances (Eg. emergencies or COVID-19).
This will help to ensure that patients cannot book and do not turn up for appointment while you are closed.

1. Turn off Online Bookings
Head to Bookings > Appointment Types in the Dashboard and select Edit next to the appointment type that requires updating:



Untick Enabled for online appointments:


Update your appointment type message to advise patients that they cannot book due to temporary closure and hit Save.


Repeat the above steps for any other appointment type that you do not want patients to book while you are closed.


You can also hide any upcoming sessions from the online bookings page using a Hide Session. For more information, please see: How to hide or remove a session



An alternative to disabling all appointment types for online bookings is turning on Telehealth only mode. For more information please see: How to activate Telehealth Only Mode

ⓘ Telehealth Only
2. Turn off Appointment Reminders
To stop appointment reminders while you are closed, head to Reminders > Settings and select Off under Activate Reminders: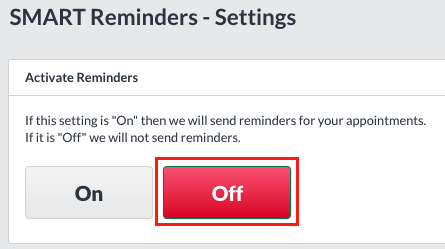 3. Update the Alert Message on your Practice Profile
Alert Messages display at the top of your online bookings page and are a great way to communicate important information to your patients.



To update this head to Setup > Practice Profile > Alert Message:


4. Send a Broadcast
If you would like to contact patients with an upcoming appointment, you do so with Broadcast. For more information, please see: How to create a Broadcast SMS
ⓘ How to contact patients with an upcoming appointment
5. What to do when you reopen
Reactivate bookings via Bookings > Appointment Types > Edit Appointment Type. Be sure to remove any message advising that your clinic is closed. For more information, please see: How to add, edit or remove appointment types


Turn reminders back on via Reminders > Settings > Activate Reminders:


Remove any Alert Message advising that the clinic is closed via Setup > Practice Profile > Alert Message. For more information, please see: Editing your Practice Profile