Question
Patients are receiving a pre-appointment information, vaccine consent forms or appointment reminders for non vaccine appointment types. How do I fix this?


Solution
This will apply for both COVID-19 Vaccines and Flu Vaccines if you have completed the setup in the Vaccinations section of the Dashboard.
It is likely the specific Vaccine appointment type in your clinical software is linked to more than one appointment type in HotDoc.
If you completed the Flu Vaccine appointments, you would have seen this in the self onboarding setup like below. In this example, you can see the Flu Vaccine appointment type in Best Practice is linked to the Flu Vaccine appointment type and Standard Appointment type in HotDoc: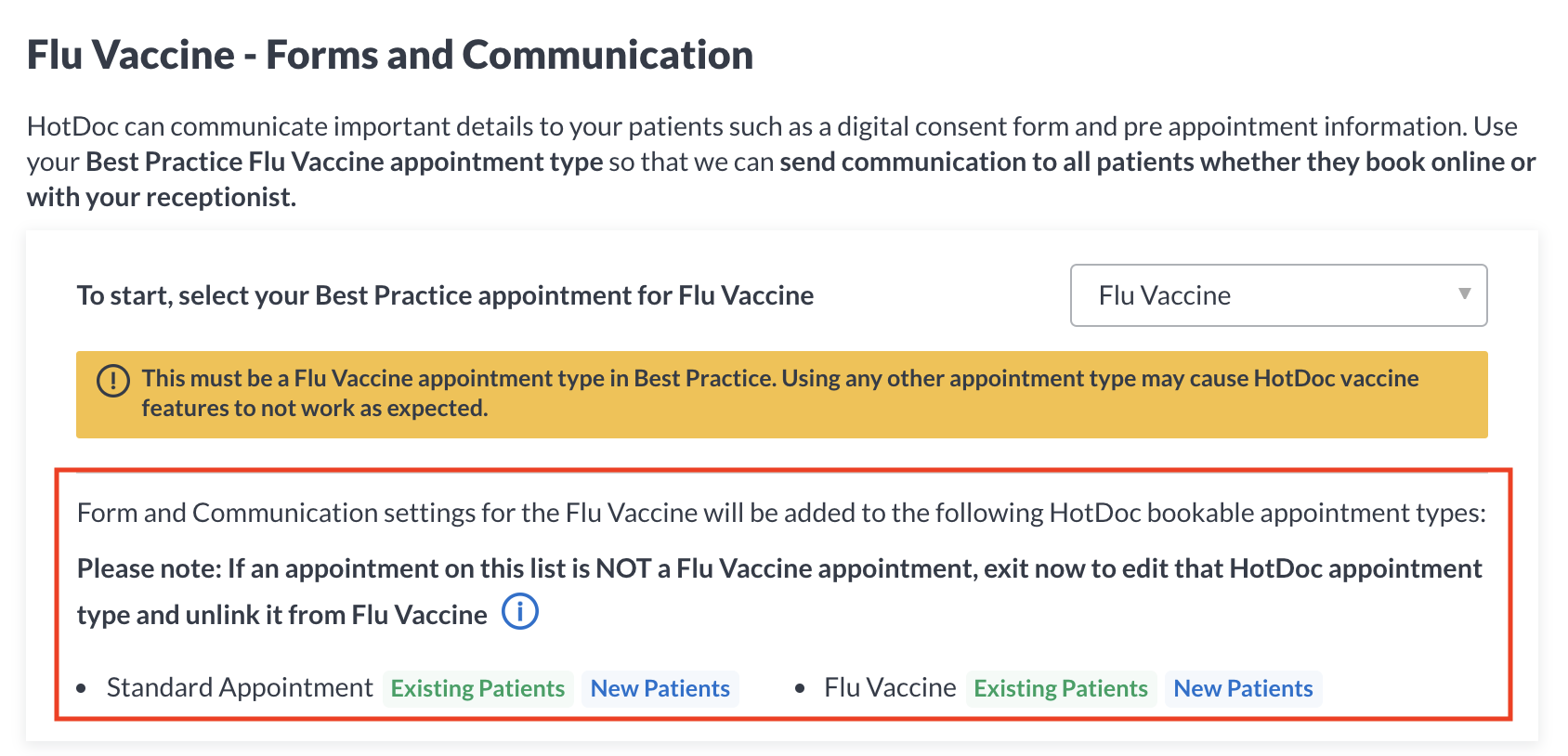 To solve this issue:
Go to Bookings > Appointment Type settings in the Dashboard, for the appointment type that is receiving the incorrect appointment communications (in the example above, Standard appointment):




Scroll down to Link to [Clinical Software] Appointment Type and you will see the appointment type is incorrectly linked. Click the x to unlink this appointment type.




Click Yes to confirm that you are unlinking the appointment type in your clinical software (Flu vaccine) from your HotDoc appointment type (Standard appointment):




Re-link the correct appointment type by clicking the dropdown and selecting an option:




Click the green Save button to save your changes. All future appointments made for this appointment type will send the appropriate communications.


Repeat these steps for any other appointment types that have been affected by this.
If you have followed the above steps, and still find you are encountering some issues with your Sidebar, please contact us via the green Support button below with some further details about the issue and our Support Team will assist as soon as possible!