Dental4Windows - HotDoc Calendar
If you manage your upcoming appointments using the HotDoc Appointment Calendar, you may wish to see if a patient has confirmed their appointment using a Reminder.
The Appointment Calendar allows you to see at a glance, any patient who is yet to confirm their upcoming appointment.
This allows you to contact any patients who are yet to confirm, reschedule and fill last minutes spaces with your cancellation list.
Reminder statuses in the Appointment Calendar
When a Reminder has been sent for an appointment, you will see a small reminder icon appear on the appointment and further information if you hover over the appointment: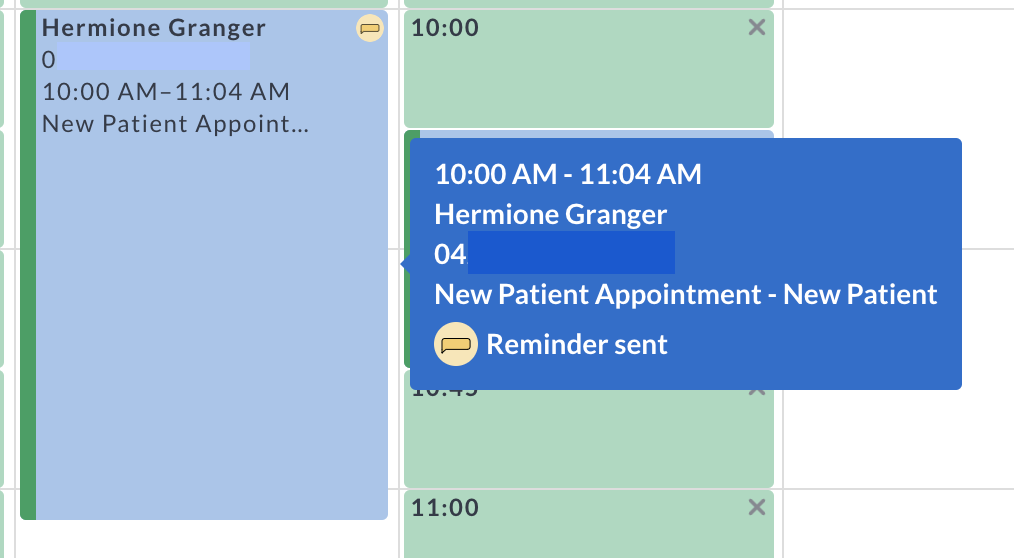 Reminder status
Description
Example:

Reminder not sent

When a Reminder Link will not be sent for a valid reason (e.g. an earlier reminder was already sent to the patient) then you will see a grey icon and when hovering over the booking, you will see Reminder unsent:


Reminder sent

When an appointment reminder has been sent, but not yet viewed or confirmed, you will see a yellow reminder icon and when hovering over the booking, you will see Reminder sent:


Reminder viewed

When an appointment reminder has been viewed by the patient but not yet confirmed, you will see an orange reminder icon and when hovering over the booking, you will see Reminder viewed:

Reminder confirmed

When a Reminder has been confirmed, you will see a

green reminder icon

and when hovering over the booking, you will see Reminder confirmed:


Reminder cancelled

If a patient cancels their appointment via the appointment reminder, the appointment will be removed from the book:
Reminder statuses in the Reminder History page
A detailed view of the appointment reminder history can be viewed through the HotDoc Dashboard in the Reminders History page. Here you will be able to view:
Appointment reminders that were queued to send by HotDoc
Appointment details: Patient's name, appointment time, practitioner and appointment type
Type of Reminder that was sent (email, push notification, SMS)
Current status of the Reminder (whether the patient has received, viewed, confirmed or cancelled their upcoming appointment)
Log in to your HotDoc Dashboard and navigate into the left hand menu to Reminders > History:





You can then use a range of filters to find specific appointments.

Alternatively, the list on the page is automatically sorted to show a live history with the most recently sent at the top of the list (time stamp in the Status column):




In the status column:

A

yellow dot will indicate that the appointment has been sent but is yet to be confirmed:




A orange dot will indicate that the appointment has been viewed but is yet to be confirmed:



A green dot will indicate that the patient has confirmed their appointment via their R

eminder.






A

red dot will indicate that the appointment has been cancelled via their Reminder:






Selecting the

View button will show you further details about the patient and their Reminders journey if it's been through more than one status: