Our stock management feature allows you to input the amount of appointments you would like to make available online based on the amount of stock you have at your clinic.
Once a vaccine appointment is booked through HotDoc or through your clinic reception, we will then adjust the amount of vaccine appointments that can be booked online accordingly.
How does vaccine stock management work?
Set appointment limits based on the amount of available stock at your clinic.


Once a vaccine appointment is booked online or directly through reception at your clinic, we will deduct the amount of available appointments.


Once all the available appointments have been booked, we will disable vaccine appointment types from being booked online (optional).



If you do not set an appointment limit, but enable your vaccine appointment types for online bookings, we will still show availability online regardless.
It is crucial that you correctly link the vaccine appointment type created in your patient management software to the right HotDoc vaccine appointment type in your Dashboard during initial setup. This is how we will accurately display available appointments online against the stock at your clinic.
Important:
Vaccine stock management features overview
Below explains each of the features as seen on the vaccine stock management page for both COVID-19 Vaccines and Flu Vaccines.
Once completed the self onboarding setup, in the Dashboard go to Vaccinations > COVID-19 or Flu to see the following stock management page: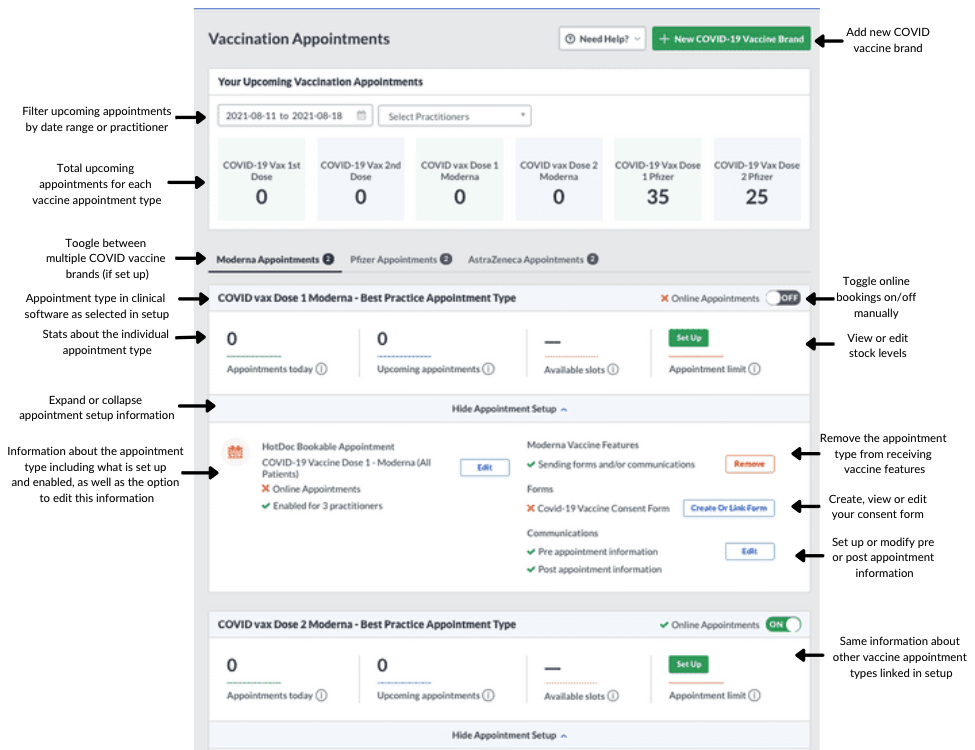 Click to enlarge image
Important to note:
If an incorrect appointment type is appearing in the stock management page, eg. Standard appointment, see How to remove vaccine features from an appointment type below for how to correct this.


Toggle the on/off button next to the appropriate appointment type to enable or disable online bookings.



Please note: If the vaccine appointment type in your clinical software is linked to more than one HotDoc appointment type, you will see a warning that this will turn on/off online appointments for all the appointment type linked:

Helpful vaccine management resources
How to add appointment stock limits
How to remove appointment limits
Troubleshooting articles