For practices using Best Practice, HotDoc Payments has extra functionality that allows you to automatically charge your patients an exact amount based upon the invoice generated for their appointment. Payments works with HotDoc Online Bookings to create a seamless patient experience. With Payments you can:
Automatically and securely accept payments from the patient when they make an online booking


Charge the patient the actual cost after you have added MBS item numbers or if the appointment type changes mid consult

Reduce reception's time spent manually processing payments over the phone


Customise how much you wish to charge for different appointment types
Watch the following video or read the guide below to set yourself up for HotDoc Payments.


1. The Patient Journey
We understand that using an online system to process payments for an appointment may be a new experience for your practice and patients. By reviewing the patient journey, you and your team will be able to know what to expect and confidently preempt any concerns or questions.

When HotDoc Payments is enabled for an appointment type, a patient will be shown an estimated cost for their appointment and prompted to choose a payment method so we can charge the outstanding invoice post-appointment:




Once the patient's appointment has concluded the booking, HotDoc will sync the invoice attached to their appointment and attempt to charge the nominated payment method.


If HotDoc is unable to charge the nominated card, we will automatically SMS the patient requesting them to opt for another payment method. We will then attempt another charge 24 hours after the first charge.


Once the charge is successful, the patient will receive an email confirming the payment amount and if it differed from the estimated cost they were initially provided:



2. Set up your payment method
An account with either Pin Payments or Stripe is required to process payments online from your patients.
ⓘ Why do I need to do this?

In order to take payments for your appointment types, you will firstly need to sign up with an account with one of our preferred payment providers.

You may already have signed up with either Pin Payments or Stripe if you've previously used our Repeats product. If so, go ahead and move to the next step.


To set up your payment account, see How to setup a Payment Provider.


Payments are set up in your HotDoc Dashboard under Payments > Payment Setup:

During sign up, you will be required to provide some information about your business such as your bank details and ABN so it's handy to have this information ready to fill in.
Pin Payments also requires you to provide identification in order to comply with laws regarding fraud prevention. Once your account has been authorised, you will receive an API key which you will need for your Payments setup.
3. How to activate Payments
Payments is required to be activated for each Appointment Type you would like HotDoc to handle payment for, during which you will set the cost that you wish to charge.
Once you have setup and authorised your payments account, proceed to the HotDoc Dashboard > Bookings > Appointment Types. Select Edit next to the appointment type you wish you add payments to:




Scroll down to the Payment for Online Booked Appointments and check the box next to Request patient's payment method at the time of booking and charge the outstanding invoice from Best Practice. Enter the cost you wish to charge, then select the green Save button.




If your practitioners charge different amounts, you can also adjust payment amount per practitioner by heading to Bookings

>

Practitioner Setup

>

Edit

and following the instructions to

edit Appointment Types:


4. How invoice sync works
Once a patient attends the appointment they booked online via HotDoc, we will sync the patient's invoice amount from Best Practice and show the actual outstanding cost in your Dashboard. Follow the steps below to see how it works:

Firstly, the patient needs to book an appointment through your HotDoc booking page. Before confirming, they are provided with

an estimated cost for the appointment. Please note: The patient will not be charged until after the consult.




Once the patient has confirmed their appointment and provided a payment method, you will see the booking within the Dashboard > Payments > Online Bookings section and the Payment Status column will say Card Details Stored:




After the patient attends their appointment, the practitioner will need to finalise the visit, enter the

Medicare Benefits Schedule (

MBS) item numbers for the appointment and click Save.



Once the appointment is in Billing Status

(the appointment will be green in the appointment book)

, click Create Account, in Bill to select Patient and then click Store. This will then enable HotDoc to sync the invoice into the Dashboard.

- If the Bill to field is Medicare, HotDoc will not sync the invoice amount, and you can click 'Cancel' to cancel the payment.

- If you would like the Payments Processing Fee to be passed on to the patient, you can choose Add Item within the Account Details and include this in the invoice:




Go back to the Dashboard > Payments > Online Bookings and you will see the outstanding payment in the Act $ column once we have synced the invoice. When you're ready to charge the patient, click Collect.

- You will also see the patients invoice/receipt number and who it is billed to (patient or Medicare), as well as the Invoice Status (outstanding/paid).



- Please note: It can take up to 5 minutes to sync this invoice, we suggest refreshing your Dashboard if it does not appear. If after 5 minutes the Act $ column says - please see Why did HotDoc not sync the Invoice?


Once the payment has been successful, you will see the Payment Status as Paid.




To conclude the payment, go to Billing History within Best Practice. Double-click on the patient's account to view the Payment details screen.
- Tick the 'Pay full amount' box
- Enter the amount in the 'Direct credit' field
- If you are submitting a claim to Medicare, tick the 'Send via Patient Claiming' box
- Click 'Process' to finalise the payment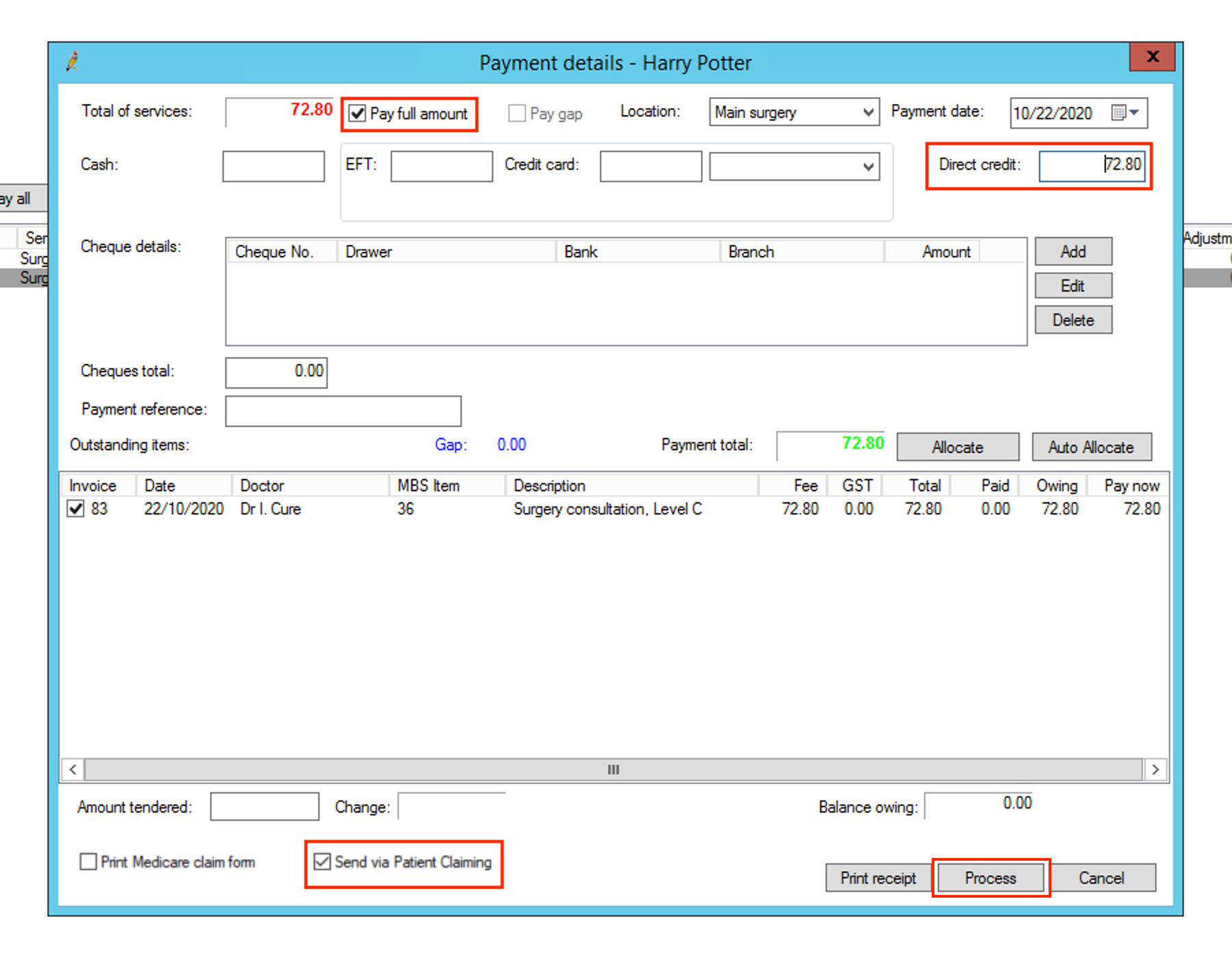 Please note: After following these steps, there will be an amount equal to the processing fee outstanding on the patient's account. This amount can then be written off as a 'Processing fee'.


5. How to capture a Payment Request
You can use the Payment Request section to capture a one-off charge for any additional payments you require, such as for appointments not booked via HotDoc.
To capture any additional payments manually from your patients, please see Creating a Payment Request
6. How to manage payments
Payment management allows you to keep track of who has been authorised for payment, paid and refunded. See Payment Management to learn how.

Now that Payments is activated, you can keep a track of your payments in the Payments Section of the HotDoc Dashboard. You can see an audit of the following:

Online bookings related payments
Payment requests sent manually
Downloaded report of your payments

Example of Payments Section in the HotDoc Dashboard
7. Educate and train your Team
As with anything new, education is key to ensuring a higher patient engagement rate. The more you promote the system to your team, the more comfortable they will feel with managing payments.

Congratulations! You have now fully setup and learnt how to manage HotDoc Payments. As your patients and team start to use this, they may naturally have questions. Most questions can be preempted by good education and knowledge of the product.
To educate your Team:
To educate your patients: