Best Practice - Medical Director (Pracsoft) - Zedmed - Helix - Genie - Dental4Windows - HotDoc Calendar
HotDoc Inform is a practice-centric marketing tool which allows you to promote your practice's services when patients receive an appointment reminder and health is foremost in their mind.
This easy-to-use tool sends out targeted and relevant promotional messages to your patients at the time they make an appointment, confirm a booking reminder or check-in via the HotDoc kiosk or mobile app. Using HotDoc Inform can:
Boost patient uptake of Health Assessments and Care Plans.

Improve your business through better patient knowledge of your services.
This guide covers the essentials of setting up Inform. If you are new to Inform or setting it up for the first time, you will be required to complete all sections below.
Once set up, you will be able to send automatic SMS messages to all your patients in your appointment book, regardless of whether or not they originally made the booking via HotDoc.
The Patient Journey

Reviewing the patient journey will allow you to be in control if you receive any enquiries as you will always know what to expect. A strong sense of the patient journey will also enable you to educate your staff and patients, as well as preempt any concerns or queries the patient may have.

How does HotDoc Inform work?
HotDoc will sync with your patient database in your clinical software to determine a patient's demographic (age, gender, etc). We will use this information to show them a promotion depending on what you have activated in the HotDoc Dashboard.

Inform acts as a one-way communication tool that educates patients on their own preventative health measures, while allowing the practice to seamlessly promote their own services.
HotDoc has a setting in place so that patients will only see a promotion once. After this, they will not see the same promotion again for 90 days.
If the patient falls within the demographics for multiple campaigns HotDoc will pick on the campaign and show the patient, they will then be shown another one the next time. This is why we recommend having multiple campaigns switched on per product.


What are Basic and Premium Promotions?
Basic Inform promotions promote your services and raise patient awareness with highly engaging and educational content.
A basic promotion communicates practice services and other important health information to the patients who are already engaging with HotDoc at your practice.
When first starting out with HotDoc as a platform, the basic campaigns are helpful to inform patients about other HotDoc products you will be utilising such as appointment reminders or SMS recalls.




Premium Inform Campaigns let you build patient loyalty and grow your practice with our pre-existing templates, or your own custom promotions. By using Inform Pro, you can target specific options and patient demographic to make sure your messages are relevant to each patient.
We recommend ticking the box on any of the Premium Campaign's that are relevant to your practice.




If you can't access our Inform Campaign's click here for more information on activating them.


Activating your Inform Promotions

You have the freedom to activate or deactivate any Inform Promotions that are relevant to your practice per product.
You can activate as many campaigns as you like and this generally is recommended for the best visibility of each promotion.
Your Inform Promotions live in the HotDoc Dashboard under Inform > Promotions:



Switch on HotDoc Activations
Unlike Inform Promotions, Inform Activations is a two-way communication tool allowing the patient to respond to the promotion they've been shown.
Activations appear after the patient confirms their appointment or books an appointment.

The activation will prompt the patient to answer a series of questions relating to their health.

The patient will then be asked if they would like to receive further support from the practice in addressing these health issues.
To switch Inform activations on, see How to Activate an Inform Activations Campaign
Your Inform Activations live in the HotDoc Dashboard under Inform > Activations: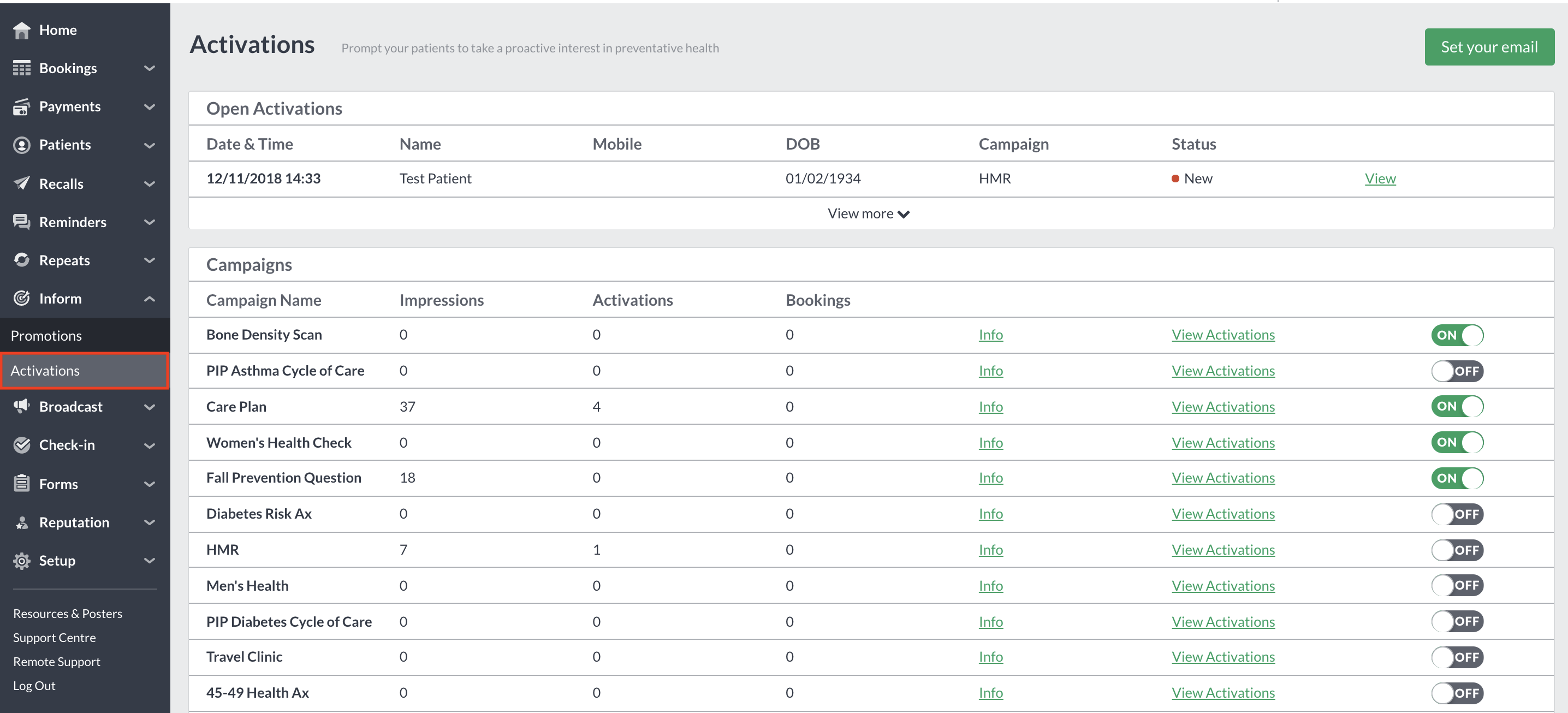 If a patient responds to the campaign it will be emailed through to the practice and you can proactively reach out to a patient and get them booked in for an appointment. You will need to set up an email address for the patient responses to be sent to. For more information, see How to add an email address for Activation alerts.

Using HotDoc Broadcast
HotDoc Broadcast is an easy way to send an SMS Broadcast to your patient database.
Broadcast works by syncing your patient database and allowing you to target patients based upon demographic or a CSV report generated within your clinical software.
Using HotDoc Broadcast can allow you to:

Advertise services such as flu clinics, skin checks or telehealth

Let your patients know about HotDoc services you use such as Online Bookings, Reminders and Recalls

Quickly advise your patients of any

changes to the practice or opening hours
HotDoc has set up some Broadcast templates as a guide. You are able to use these as-is, edit the template or create your own from scratch.
If you are interested in sending out a bulk SMS Broadcast message, you can find further instructions here: How to create a Broadcast SMS.
Your Broadcast product lives in the HotDoc Dashboard under Broadcast > Broadcasts: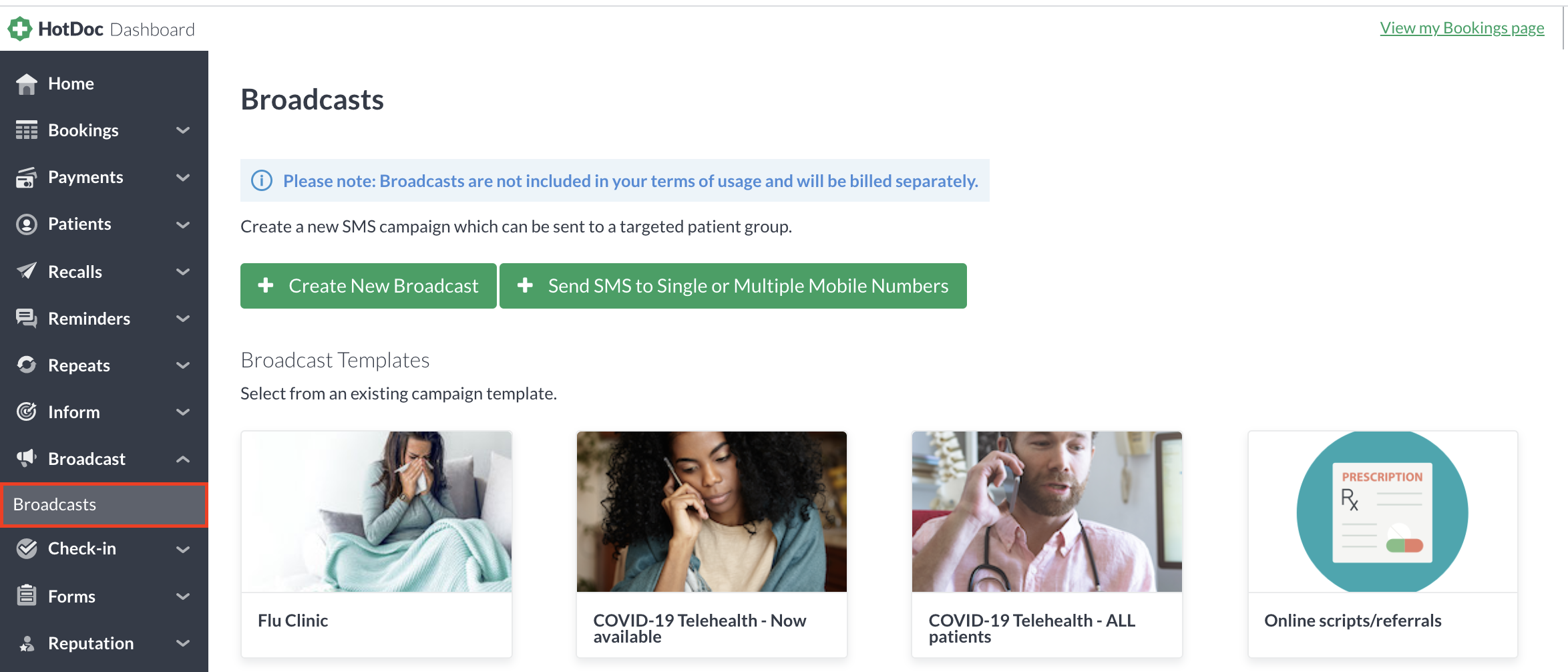 In some situations, you may require sending an individual message to one specific patient or a small group of patients. For example, letting them know their Doctor is off sick. In cases like this, the Broadcast section also has the ability to send out a single SMS or to multiple mobile numbers. To learn more, see Sending Broadcasts to one or multiple mobile numbers.
Congratulations! You now know the basics and features of HotDoc Inform. Go ahead and check out our HotDoc Inform Support centre for further resources and to search for frequently asked questions.