Best Practice - Medical Director (Pracsoft) - Zedmed - Helix - Genie - Optomate - Dental4Windows - HotDoc Calendar - Cliniko - CorePlus - Nookal
HotDoc Online Bookings can be configured to capture a patient's reason for seeing their doctor, as they are making the booking. Common reasons why you may want to know a patient's intent before their appointment are:
To make sure their appointment reason is applicable for a Telehealth consult
To verify that they have made the right type of appointment for their needs
To verify that they will have enough time for their reason

This guide will take you through how to turn on the "Pre-Consult Notes" feature, as well as how to check the notes as they are being entered by the patient.


How to turn on Pre-consult Notes
Pre-consult notes are switched on in the appointment type settings in the HotDoc Dashboard. You can enable this setting for one or all of your appointment types:
Log into your HotDoc Dashboard and navigate to Bookings > Appointment Types, then select Edit next to the type you wish to add this feature to:




Select the checkbox next to Ask patients to enter the reason for their appointment and then click the green Save button to save this and any other changes you make:





If you would like this feature to be enabled for other appointment types, click edit on each of those types and repeat the above steps.
What does the Patient see?
With this feature switched on for an appointment type, the patient will be prompted to enter the reason for their booking.
Once the patient has selected a time, they will be asked to type a reason for the appointment, then press Continue:




The reason will be then be captured once the patient's appointment request has been completed. See the section below for how to see this appointment note in your Dashboard, and your clinical software (Best Practice, Zedmed, Medical Director).

Where can I see the Pre-Consult Notes?
We recommend viewing new appointment requests in your Booking History at least once a day to check what a patient has written as the reason for their upcoming appointment.

Pre-Consult Notes are displayed in the HotDoc Dashboard under the patient's request in Booking History.
Note: If you're using Best Practice, Pracsoft Medical Director or ZedMed as your clinical software these notes will also write back into the patient's appointment details.
Booking History section of the Dashboard
Log into your HotDoc Dashboard and navigate to Bookings > Booking History > Online Booked. If a patient has left a note, you will see the Note icon:




Click on a patient's appointment to expand it to view more details and you will see the description below Notes:




You also have the option to view your Booking history in either a compact or detailed form. Detailed allows you to easily see patient notes for all appointments:


| | |
| --- | --- |
| Example of Compact View | Example of Detailed View |
Practice Management Software - Appointment details
If your practice is using Best Practice, Medical Director, Zedmed or Cliniko as your practice management software, we are able to write back these notes into the patient's appointment details:


Best Practice:



Medical Director (Pracsoft):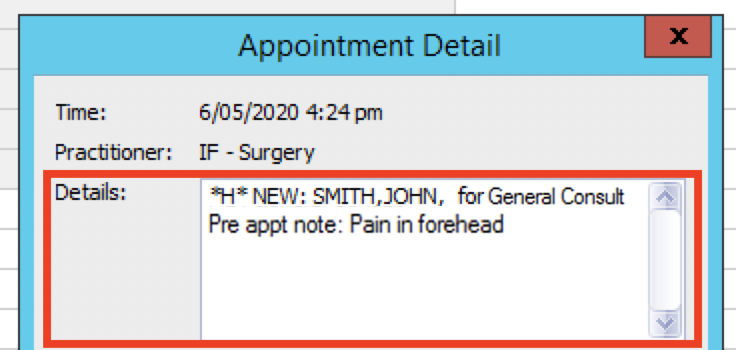 Zedmed: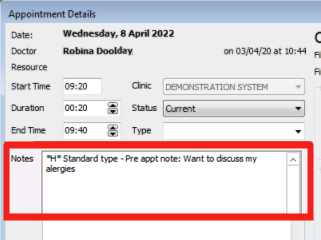 Cliniko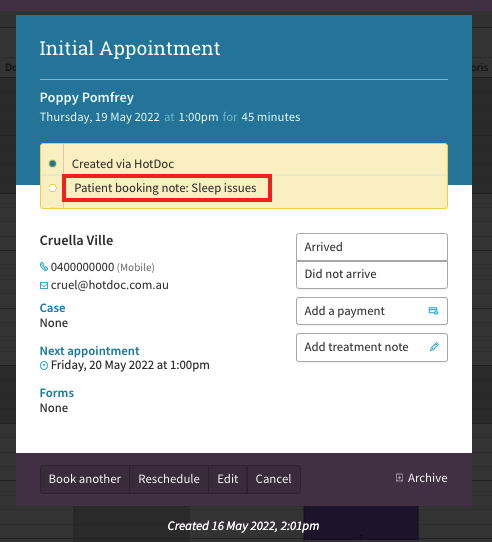 Practitioner View (In Sidebar)
If you use Practitioner View, you will see the note in the calendar view of the appointment, shown underneath the appointment type: