Best Practice - Medical Director (Pracsoft) - Zedmed - HotDoc Calendar
Question
How do I view payments reporting in the HotDoc Dashboard?
Solution
The Payments 'Reporting' section of the Dashboard can assist you in reconciling your payments. Here you can see your Payment Activity, Payouts and Generate Reports.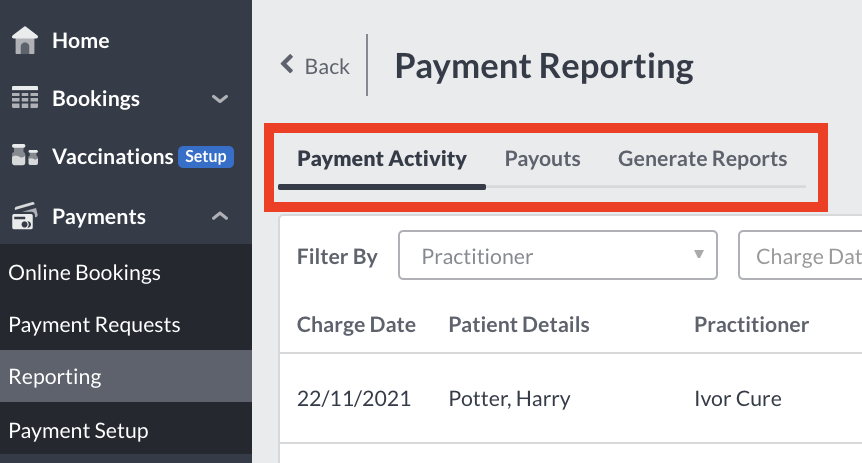 Please view the following instructions for how to use these features.
How to Generate Reports
The Generate Reports tab allows you to download a comprehensive spreadsheet of your payments to help with calculating payments per practitioner.
Whilst in Payments > Reporting, click on the Generate Report tab.




Select a date range using the calendar, then click the Download button.




A CSV. file will then be downloaded to your computer called "HotDoc-payments-revenue-from-[date range]". Open this file to view your payments report!


How to view Payment Activity breakdown
This tab provides a comprehensive list and breakdown of a patient's payment, and the overall payment that contribute to a Stripe payout.
To view this:
Whilst in

Payments

>

Reporting, click on the Payment Activity tab.




Here you will see a breakdown of:

Charge Date: The date the charge was first attempted

For an appointment, this date is when you click 'collect'
For a payment request, this date is when the patient enters their details and submits their payment


Patient Details: Patients name in your practice management software (PMS)
Practitioner: Name of the practitioner in your PMS
Appointment Type / Description:
Charged - The amount the patient paid (or will pay, if the charge is Pending)
Fees - The payment fees
Net - The total the practice received
Payment Status - The patient's payment status
Payout Date - The date this payment was paid to the practice's linked bank account. Click the View Details to be taken to the Payouts page.




How to see an overview of your Payouts
The payouts section shows a list of all payouts that have been transferred from your payment provider to your bank account.
Navigate to Payments > Reporting, then

click on the

Payouts

tab:





If required, you can filter by Charge Date Range. Clicking the View Details button at the right of a payout will take you to the Payout Details page.




At the top of the Payout Details page, you'll be shown t

he total payout amount, Date Paid, Stripe Payout ID/ Pin Transfer ID and a View button to see this payout in your Stripe dashboard.

For Pin Payments customers: The Transfer ID is the identifier for a specific transfer that you will be see and be directed to in Pin Payments


Note: The total payout amount consists of all payments,
including payouts from HotDoc Repeats, if you use this feature.
It also takes into account any refunds and anything else you use your payment provider for.






Underneath the payout details summary, you'll see a list of the separate patient payments within this payout.