Best Practice - Medical Director (Pracsoft) - Zedmed - Helix
HotDoc Repeats is an easy to use, online system that provides patients access to repeat prescriptions or referrals for regularly attended specialist appointments (skin checks, psychologists etc). Using HotDoc Repeats can:
Free up non-essential appointment times for your practitioners so they can focus on patients who need to be seen


Free up your reception team from having to process payments for script appointments through automation with an online payment provider



Keeps your patients engaged and happy as they no longer need to take time out of their day to attend a script refill appointment
This guide covers the essentials of setting up your Repeats product. If you are setting up or learning how HotDoc Repeats works for the first time, you will be required to complete all sections below.

Once complete, you will be able to let patients request their scripts and repeat referrals online, this will help ensure patients who don't need to attend an appointment at the practice and can securely request their scripts and referrals online.
Find out more information about what our Repeats product is here.


1. The Patient Experience
Before setting up HotDoc to process repeat script and referral requests, we recommend that you first review the journey from a patient point of view. See HotDoc Repeats - The Patient Journey

We understand that using an online system to process repeat script and referral requests can be a different experience for your practice and patients. By reviewing the patient journey, you and your team will be able to know what to expect and confidently preempt any concerns or questions.

With HotDoc Repeats, the patient is able to select buttons on your HotDoc booking page in order to request a repeat prescription or referral: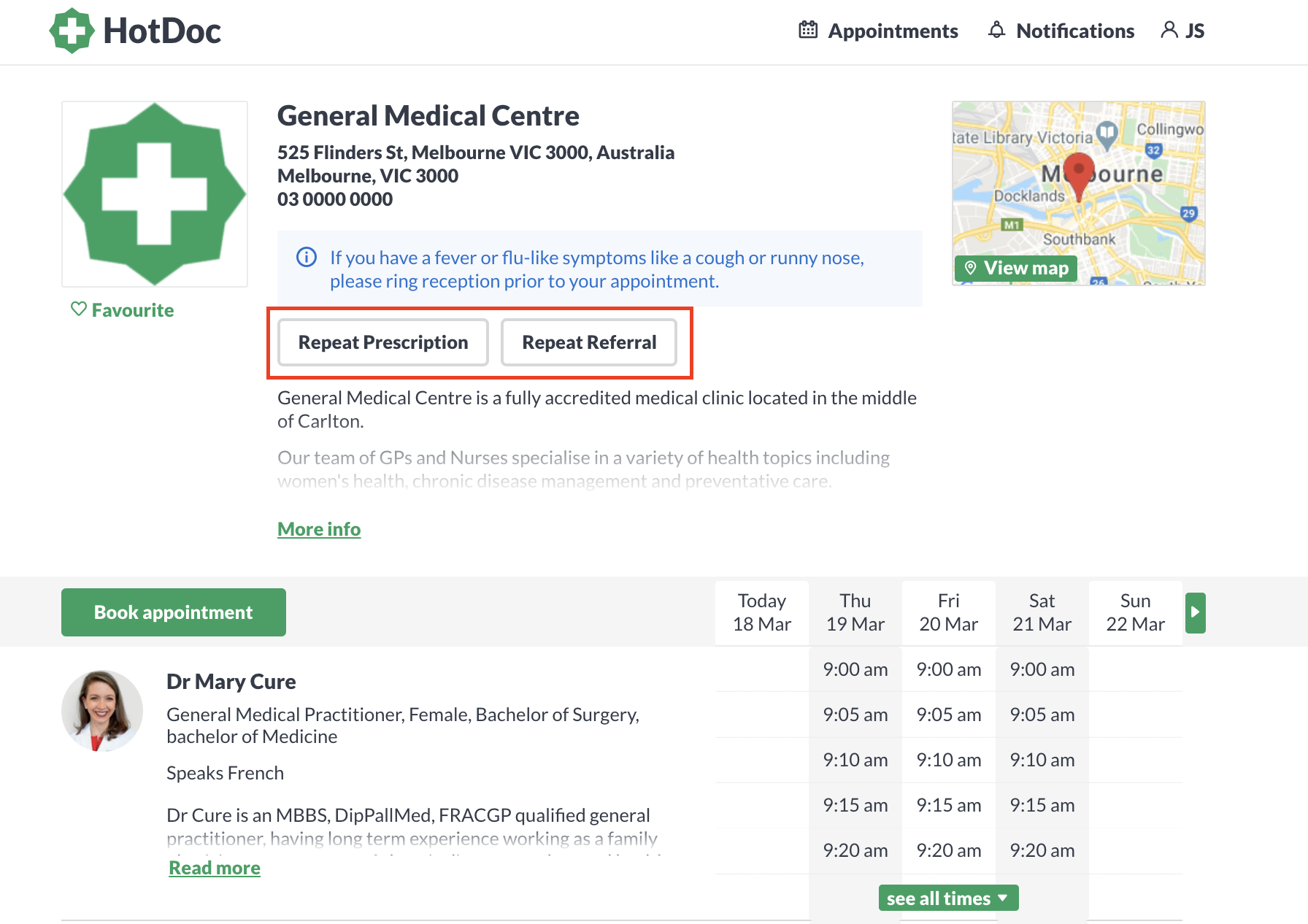 You can also link your HotDoc Repeats page to your own practice's website once you're all setup with the steps below.



2. Set up your payment method

An account with one of our preferred payment providers, Stripe or Pin Payments, is required to process payments online from your patients.
ⓘ Why do I need to do this?

In order to take payments for the repeat scripts or referrals, you will need to sign up to an account with one of our preferred payment provider, Stripe or Pin Payments.
To set up your payment account, see How to setup a Payment Provider.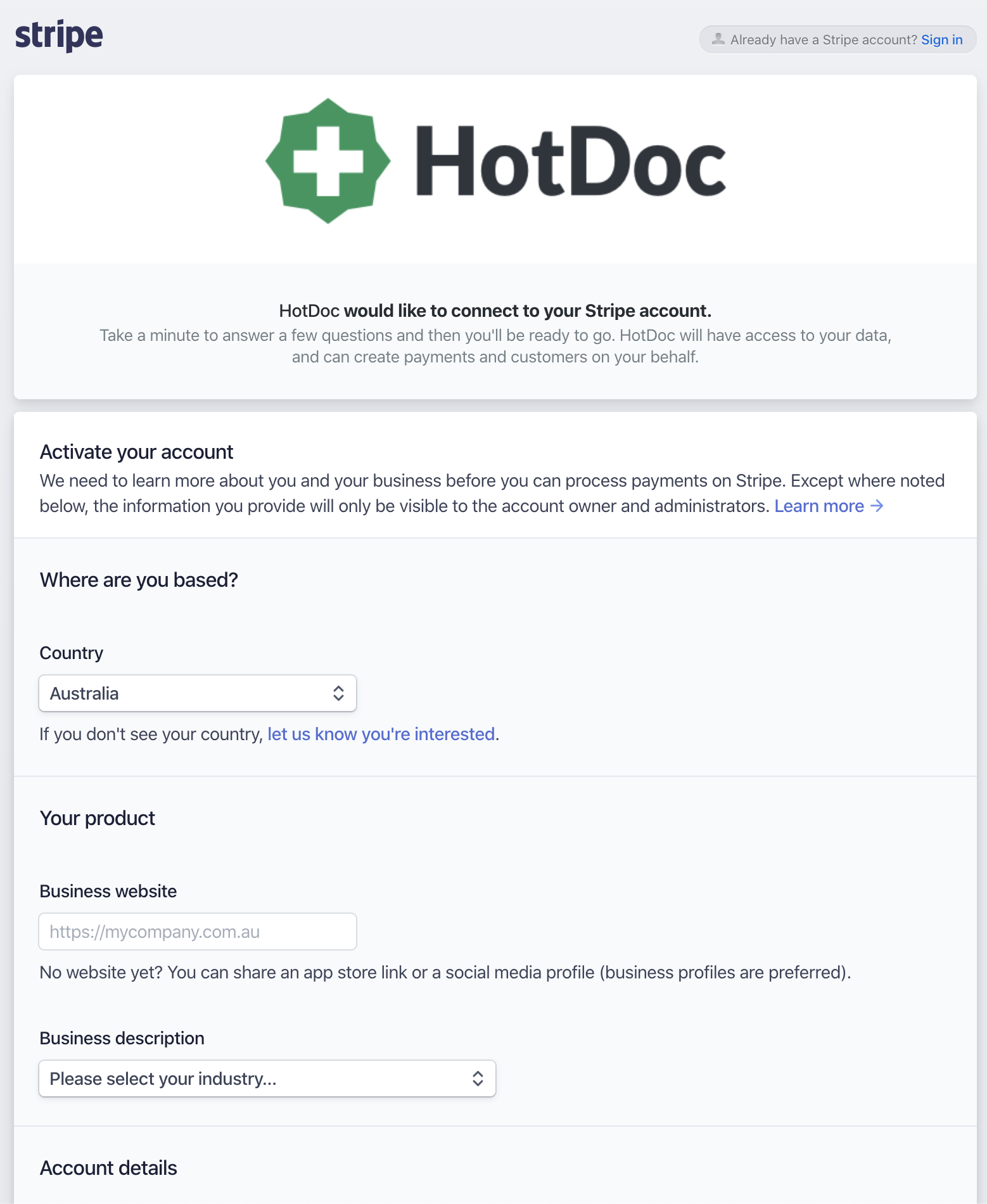 3. Create your HotDoc Repeats account
Your HotDoc Repeats account requires some initial setup in order for HotDoc to know who to send notifications to and what type of repeats and referrals you would like to accept.

With your activated Pin Payments account and API key ready, you can now set up your Repeats details in the HotDoc Dashboard.
To setup your account, see How to set up HotDoc Repeats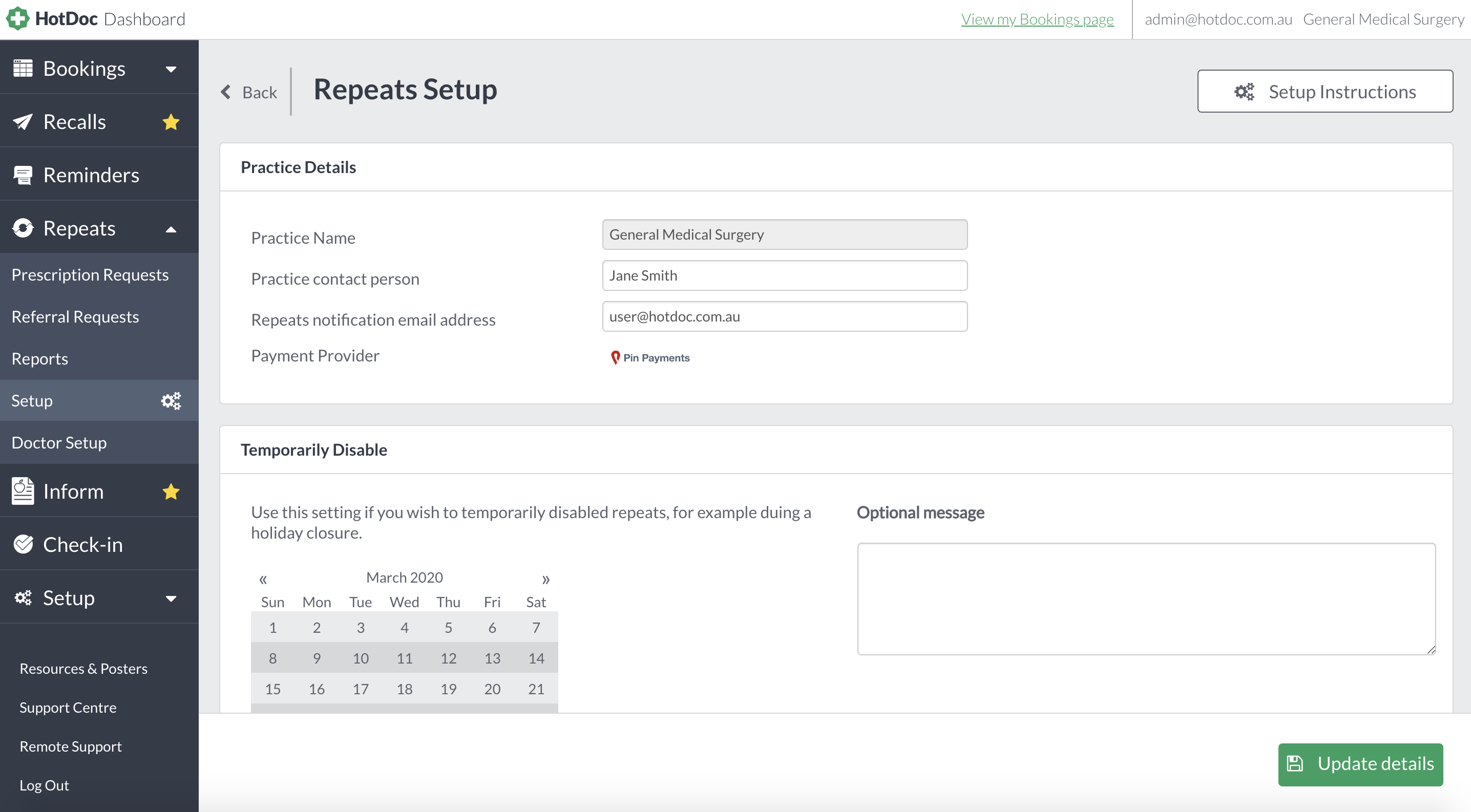 Setting up your Repeats account is important so that HotDoc knows:

Who to notify when a request from a patient has been made

What type of repeats and referral options you'd like to provide

What kind of specific terms and conditions are required for your practice

Where to direct patients to pay for their request
If you are still in the process of setting up your Pin Payment account, you can still go through your HotDoc setup and link the API key later.


4. Select your Doctors

HotDoc Repeats allows you to easily choose which Doctors accept online repeat script and referral requests.

Once your account settings are complete, you will need to s elect which doctors will be accepting repeat script and referral requests online. You have the ability to turn all doctors on and off when required.
Log in to your HotDoc Dashboard and navigate to Repeats > Doctor Setup. Tick or untick the checkboxes next to your Doctors and then select the green Save button when you have finished:



5. Tips and Settings
Now you're all setup, you may want to know some tips and extra features for your Repeats account!
You have the ability to temporarily disable HotDoc Repeats during periods your practice may be closed or unable to accept online repeat requests. You can also add an optional message, which displays to the patients advising them why you aren't taking requests at this time.

See How to temporarily disable online script or referral requests

for more information.






You also have the ability to check your settings and review the patient's experience, by heading to Repeats

>

Setup

and scrolling down to the

Visit your repeats site

section.





It's also possible to provide these links to your website developer so they can add a button to your practice's website to direct patients to the page:




6. Educate your team

To educate your team and ensure they are ready for HotDoc Repeats
Please ensure they are familiar with these guides: What are HotDoc Repeats and HotDoc Repeats - The Patient Journey


Learn how to action HotDoc Repeats requests once they come through. See How to action a repeats request to learn more

Make sure your reception team are notified about using HotDoc Repeats before switching Repeats on so they can assist with educating your patients if there are questions


Place HotDoc Repeats posters up around the practice, especially in your waiting room. You can request additional posters from the HotDoc team or print additional repeats resources.
7. Switch HotDoc Repeats to Live

Congratulations! You have now fully setup HotDoc Repeats!
Once you are ready to start taking Repeat requests at your practice, switch from demo to live mode by navigating to your HotDoc Dashboard and selecting Repeats > Setup.
In the top right corner of your Repeats Setup page is the ability to switch your repeats of Demo Mode. Select Live Mode to activate HotDoc Repeats for your patients:


Go ahead and check out our HotDoc Repeats Support centre for further resources.