Best Practice - Medical Director (Pracsoft) - Zedmed - Helix - Dental4Windows - HotDoc Calendar
HotDoc Payments is a service that allows patients to be automatically charged for a consultation that they have booked via the HotDoc Online Booking page.


How does the patient pay?
HotDoc Payments asks the patient to enter a nominated payment method before confirming their booking. You can then collect payment via this method post-appointment.

A patient may attempt to create an online booking with their HotDoc account for your practice. See Online Bookings Patient Journey to learn more about this.
After a patient selects an appointment type, practitioner and time, they will be directed to either enter a new payment method, or choose from an existing method they have already attached to their HotDoc account:



The patient will then see a confirmation dialogue confirming their appointment choice:




If the patient is has not added a payment method with sufficient funds to their account, they will be prompted to do so. The patient must select Add payment method and must add a method within 30 minutes of making their booking:




The patient will then be asked to fill in the following fields to add a payment method with sufficient funds:


Please note: If adding credit card details for the first time, our payment partner may require an authorisation fee to be taken that is immediately refunded. In some cases this can be $0 but other credit cards or banks will usually require a $1 authorisation fee (which is again voided and returned as soon as the card is deemed valid).


The patient is able to see the appointment in their Appointments tab once booked:




Once the patient has attended their appointment and you have collected payment, they will see the charge in the app and an email will be sent to them to confirm that their payment has been successful:



If the patient does not add a payment method within 30 minutes of requesting the booking, HotDoc will cancel the appointment request automatically and the patient will receive an email to inform them of the cancellation:


What if the patient cancels or does not attend?
There may be times when a patient decides to cancel in advance, or does not attend their appointment time.
If the patient successfully cancels their appointment, HotDoc will remove the option to collect payment for this appointment from the Dashboard.


If a patient does not attend their booking and has been marked as a 'no show', the practice can choose to collect this fee by selecting the Collect button next to the patient's appointment in Payments > Online Bookings:



What if the payment method is rejected?
There may be times when HotDoc is unable to charge the patient's nominated payment method post-appointment (depending on your clinical software):

If the payment method is declined, we will send the patient a SMS informing them to add a new payment method


If the payment method has insufficient funds, we will send the patient a SMS informing them to either add funds or use a new card.
HotDoc will then try the charge again 24 hours after the first charge. If we are unable to take the funds at that point, the practice will receive an email informing them of the unpaid appointment so they can phone the patient directly.


How are refunds handled?
When a refund is processed, the funds can take up to 5 business days to appear back on the patient's payment method.
Please note: if you are refunding a payment that has already been captured by the processor, the processing fees will not be refunded to your account.


If you wish to provide a refund to the patient after payment has been captured by HotDoc, please see How do I refund a HotDoc Payment to the patient?
We will then send the patient an email to let them know that the refund is being processed and to expect the funds back into their card within the next 5 business days.


How does a patient claim their Medicare rebate?
For mixed billing or private billing, we recommend that you charge the patient for the full amount of the appointment upfront and then send the claim electronically to Medicare using your clinical software.

When a claim is sent to Medicare as a privately paid appointment that the patient has paid for in full, it triggers a payment from Medicare to the patient's nominated bank account.

You can learn more about sending the claim to Medicare with the links below:

The patient will receive an email after their appointment to confirm the full charge you have set in the HotDoc Dashboard. The email will also contain some links on how to make a Medicare claim and how to check if Medicare has the patient's latest bank details to assist them with the rebate: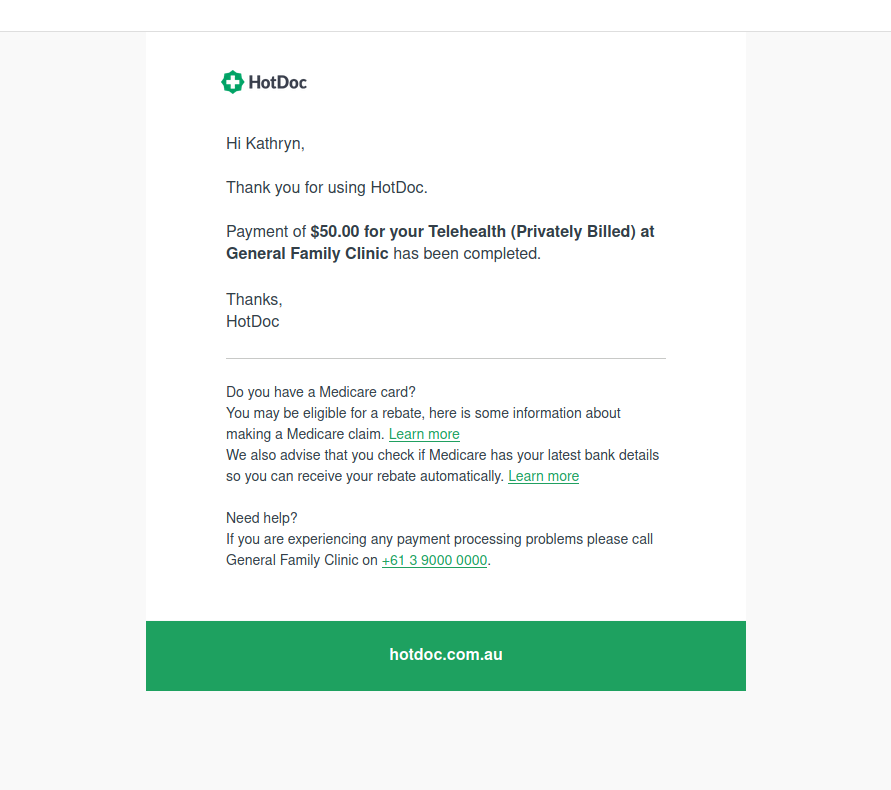 Example of email confirming charge and rebate links