Due to the emerging events occurring around COVID-19, HotDoc have implemented a feature which allows your clinic to use online bookings to screen for patients who may have flu like symptoms.

Online bookings can be a great way to assist with screening for patients who may be at risk and require further support during this time. Read the following guide to learn more about this feature and how to set it up.


What is screening mode?
Screening Mode will appear after the patient has selected their practitioner and the time of the appointment they wish to book.
Once the time is selected, the following alerts will appear:




After selecting I will answer truthfully, they will be asked the following questions:




If the patient selects Yes to any of the alerts, they will be shown the following screen and they will not be able to continue with their online booking:




Alternatively, if you have our Telehealth Screening mode

enabled, the patient will see the option to book a Telehealth consult:





How to turn on screening mode
Log into your HotDoc Dashboard and navigate to Bookings > COVID-19 Mode:




On this screen, check the box to Enable Patient Screening, decide on how you would like patients to be diverted and select the green Save button:




Please note: Screening Mode will also activate a default message to appear on your SMS Appointment Reminder Link if you are also using HotDoc Reminders.
A message will appear once the patient clicks the hyperlink in their SMS Appointment Reminder: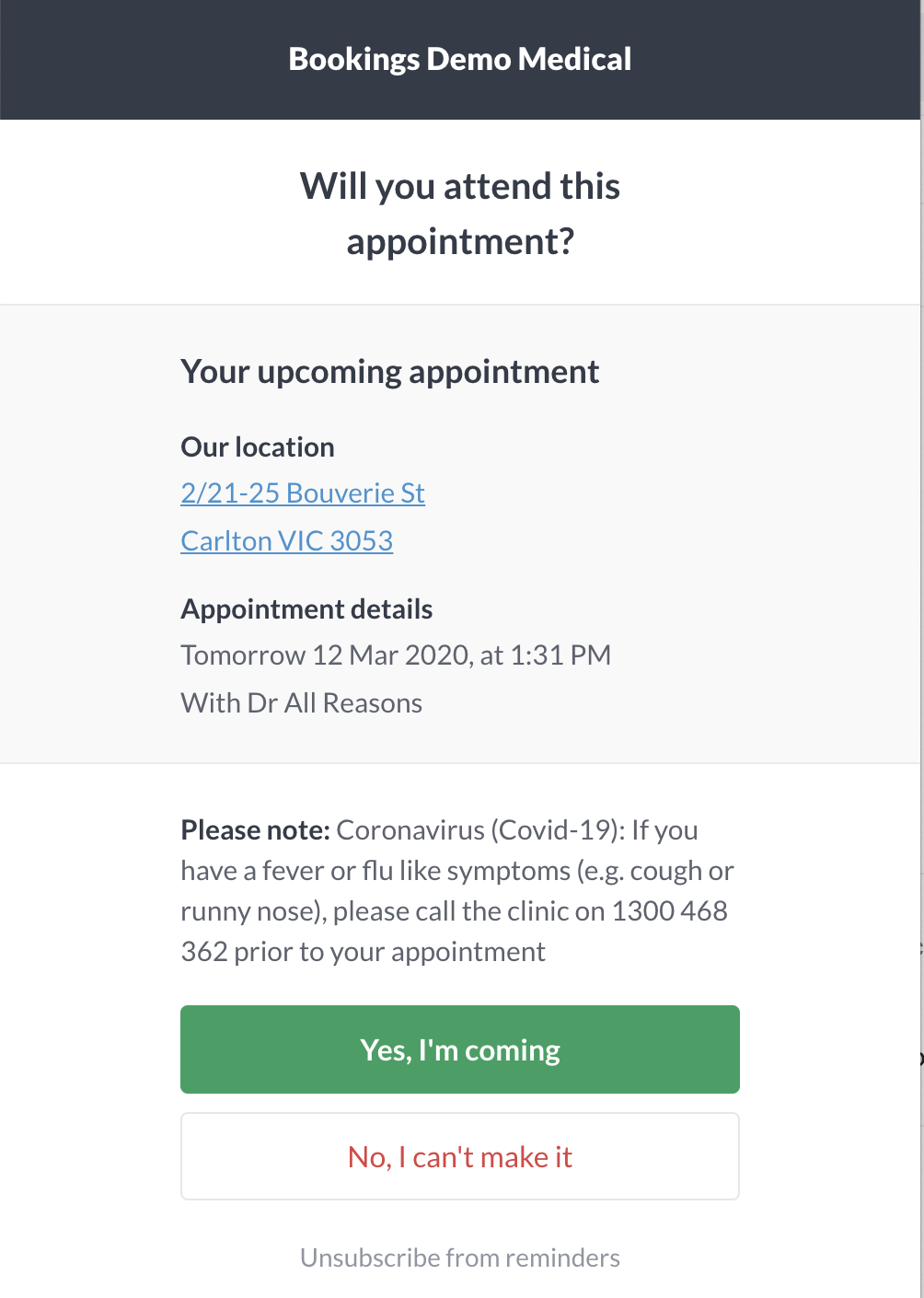 To create a Telehealth appointment option using Screening Mode, see Telehealth Screening Mode.
See Creating an alert message for an emerging health concern for some further tips on how to use HotDoc to assist with screening your patients.