HotDoc has compiled a kit of useful information for your clinic, including how to best manage patient flow and reduce risk of cross-infection with the novel coronavirus COVID-19, in our Coronavirus/COVID-19 Kit.

Through the HotDoc Dashboard, you can set up customised screening questions to stop specific patients from booking. See Preventing online bookings using Screening Mode for more information.
You can also add a message to your online bookings profile to ensure thorough triage protocols are used during this heightened time, and patients suspected of having the virus will not come to your waiting room unprepared, or patients in general are advised to wear a mask. Alongside this, we have also created alert solutions within our Inform and Check In products.

Please read the following guide to learn more about these solutions.


How to add an alert message for your Booking Page
Log into your HotDoc Dashboard


Navigate to Setup > Practice Profile:



Scroll down to the Alert Message section and paste the following message at the top:

Please ring reception prior to your appointment if you have a fever or flu-like symptoms like a cough or runny nose.




Click the green Save button:




The message will now appear at the top of your online bookings page and widget:



How to add an alert message to your Appointment Types
Log into your HotDoc Dashboard


Select Bookings > Appointment Types and then select Edit on any appointment type you wish to add a message to:




Select the checkbox next to Add a message to appear as soon as this appointment type is selected, type the message below and select Save:

If you have a fever or flu-like symptoms like a cough or runny nose, please ring reception prior to your appointment.




The alert will then be shown to the patient when they are booking:



How to add a message to your SMS Reminders Page
A message that appears once the patient clicks the hyperlink in their SMS Appointment Reminder will be shown automatically if your clinic has Screening Mode turned on:



Inform Promotion
HotDoc has also created a new Inform Promotion Campaign to help you alert and educate patients.
Simply go to your HotDoc Dashboard > Inform > Promotions and tick all of the checkboxes to maximise the touch points that your patients will see: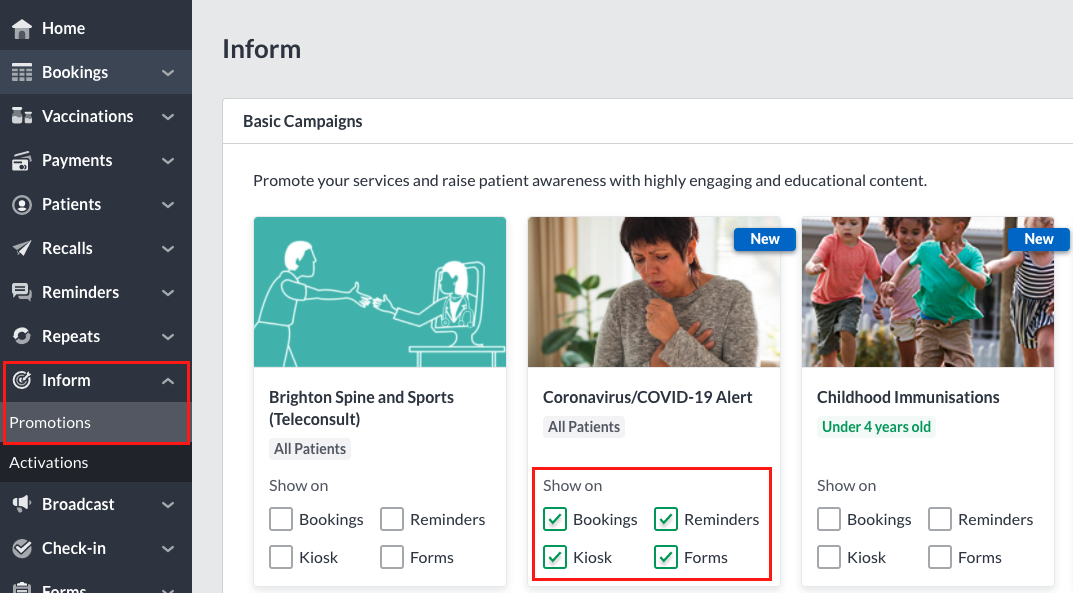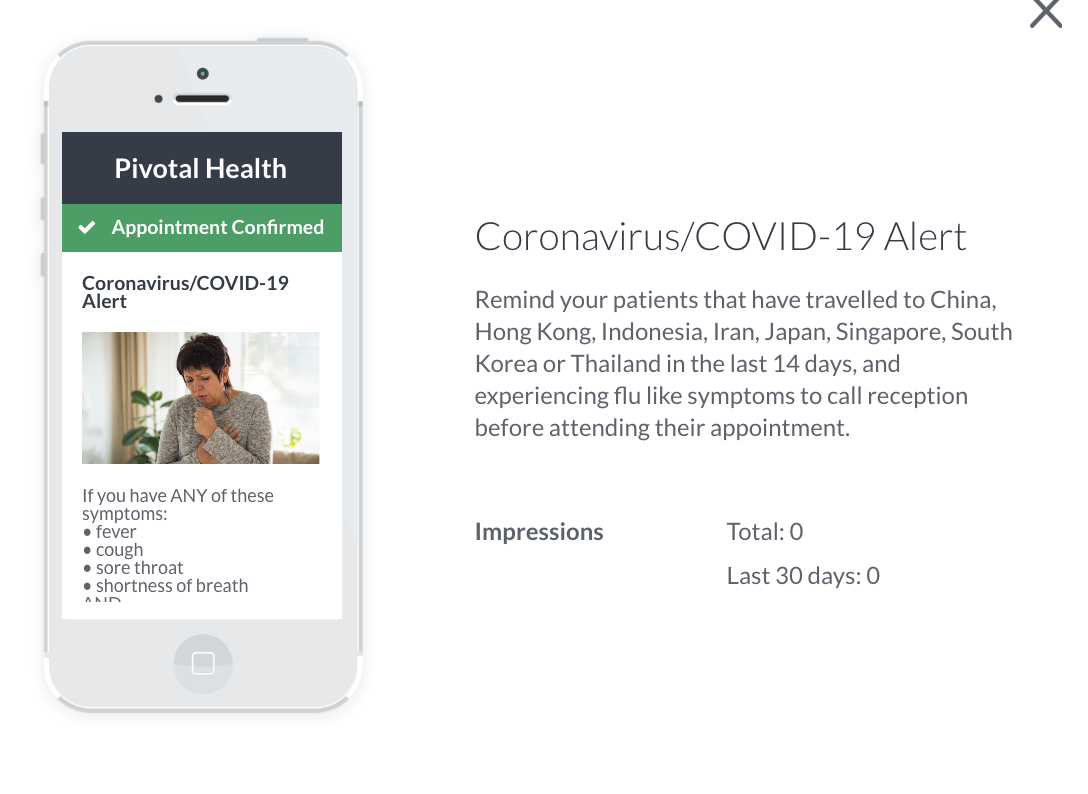 Mobile Check In and App
HotDoc's Mobile Check In and App solution is a great way for patients to be screened prior to coming into the clinic.
With Screening Mode enabled, patients will now see the following in their Appointments tab if they make a booking via HotDoc: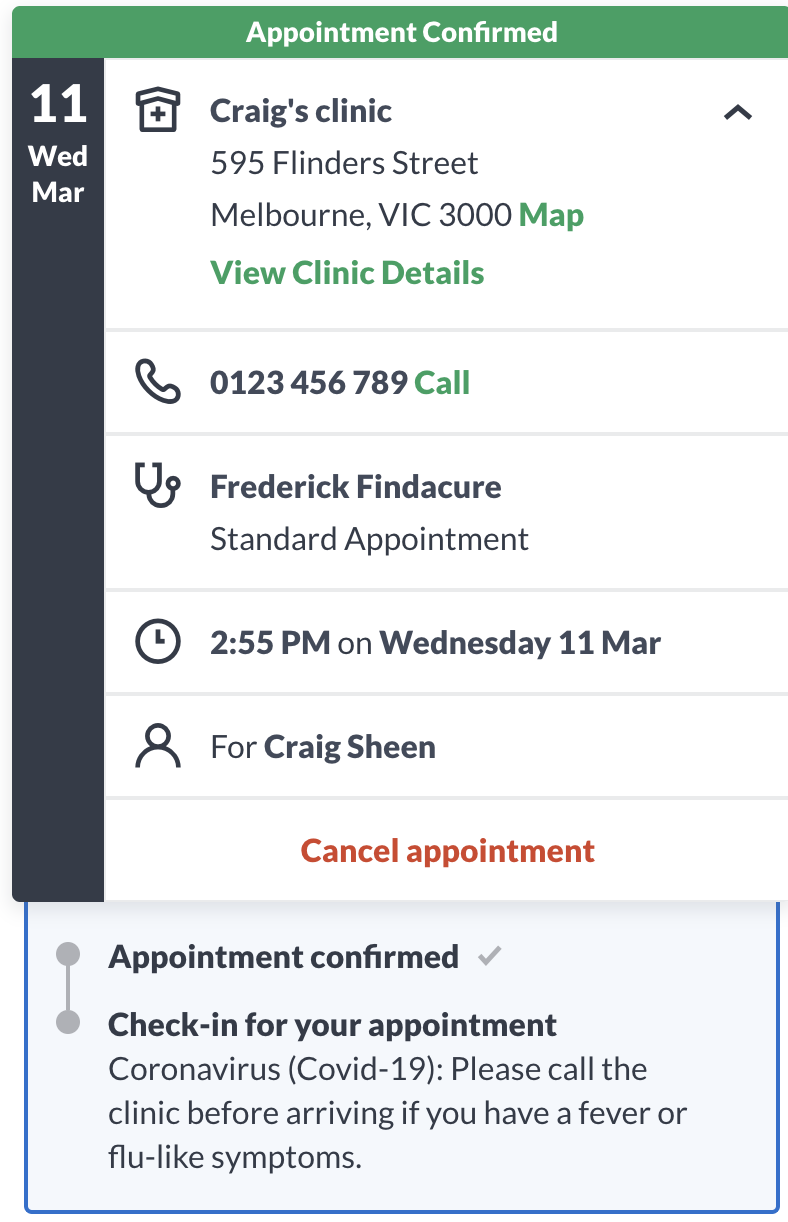 If you have our Mobile Check in solution turned on, they may be sent an SMS with the following information and alert: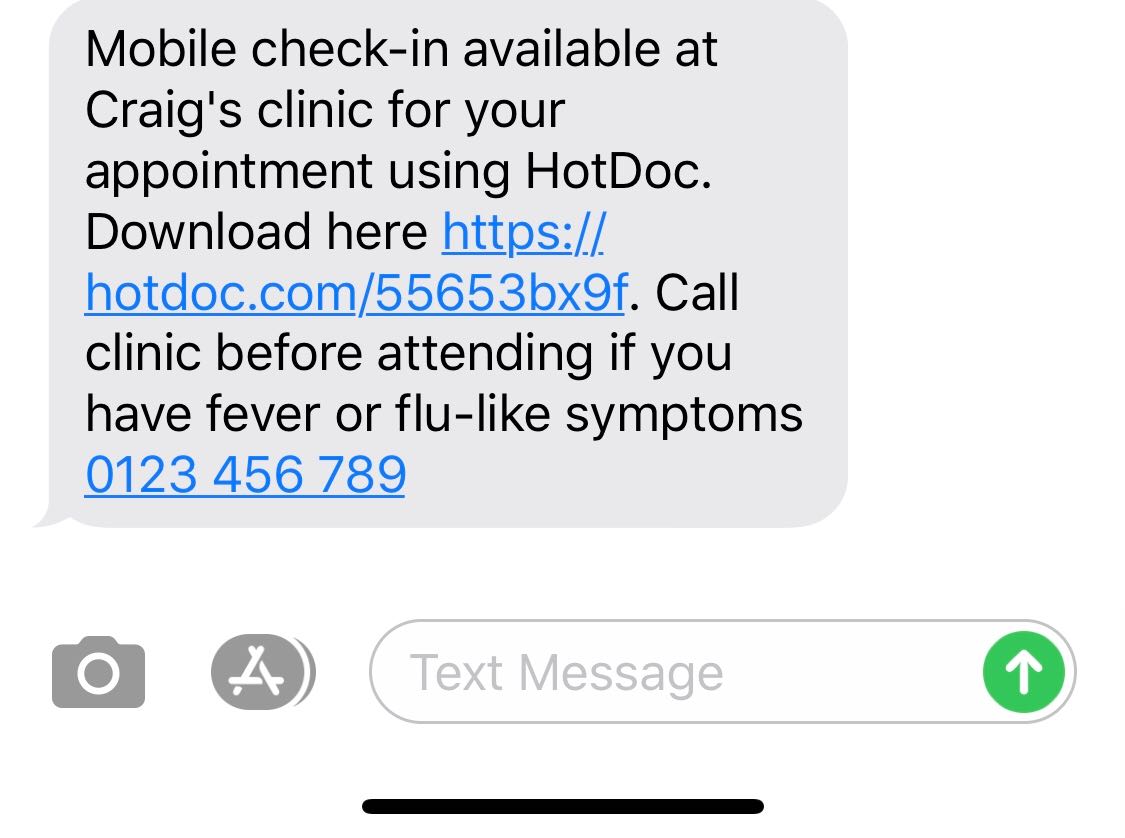 The patient will also see the following alert after completing check in if viewing their Appointments Tab: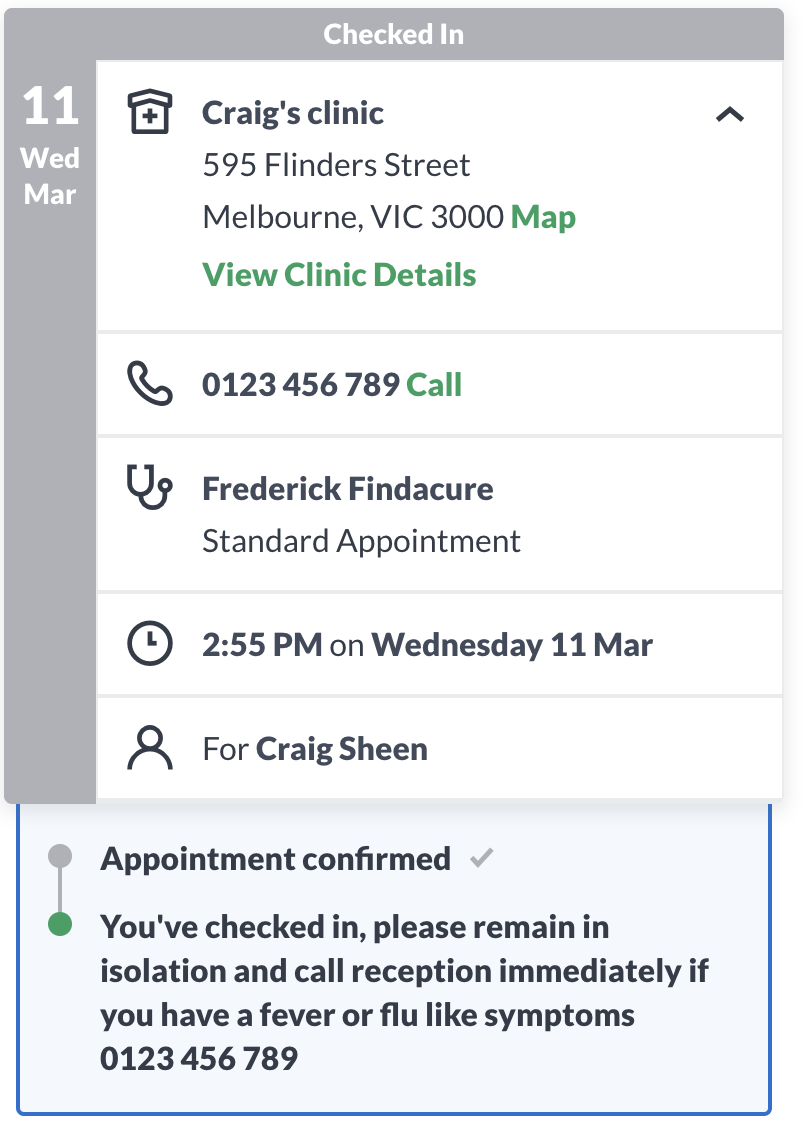 Alerts on your HotDoc Kiosk
By default, the HotDoc Kiosk will also show an alert screen as part of the check in process. If the patient selects Yes, they will be directed to report to reception: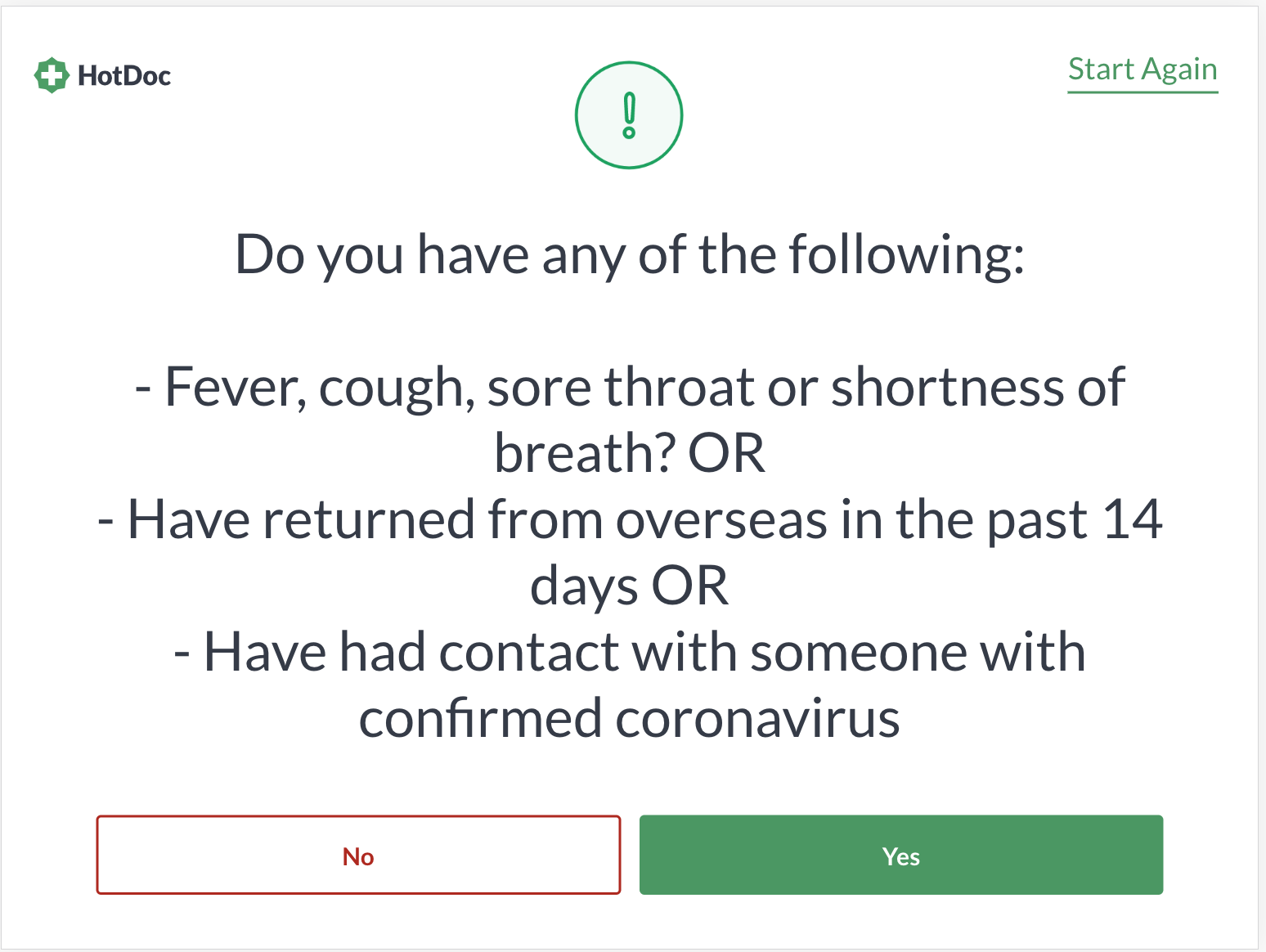 Anything else?
Coronavirus is an evolving international health concern. Keep up to date with comprehensive information from:

HotDoc has recorded a free webinar with an overview of novel coronavirus/COVID-19 including clinical features, how to effectively triage patients, how to access up-to-date information and relevant planning resources to ensure your practice is fully prepared.

You can access the webinar via our blog:
Novel Coronavirus/COVID-19 Update for General Practice
We also recommend ensuring you have adequate signage in your clinic for such instances. You can find a printable template supplied by the RACGP here.