The HotDoc New Patient Registration is a secure digital form that easily allows new patients to fill out their details prior to their initial appointment.
How do new patients access the form?
HotDoc ensures the patient is shown the link to fill out your new patient form in multiple places:
If the patient books a 'New Patient' appointment online through HotDoc. Once the booking is confirmed, will we show the patient a link to complete their form and they will receive an email with a link to the form, as well as a link in their reminder email:



| | |
| --- | --- |
| Page shown after confirmation | Example of a booking confirmation email |




If you are using HotDoc Reminders, we will send an SMS or Push Notification

to a new patient, whether they book via HotDoc or not

. The patient clicks the link via their reminder to confirm their appointment and once confirmed, they are shown a link to complete their new patient registration form.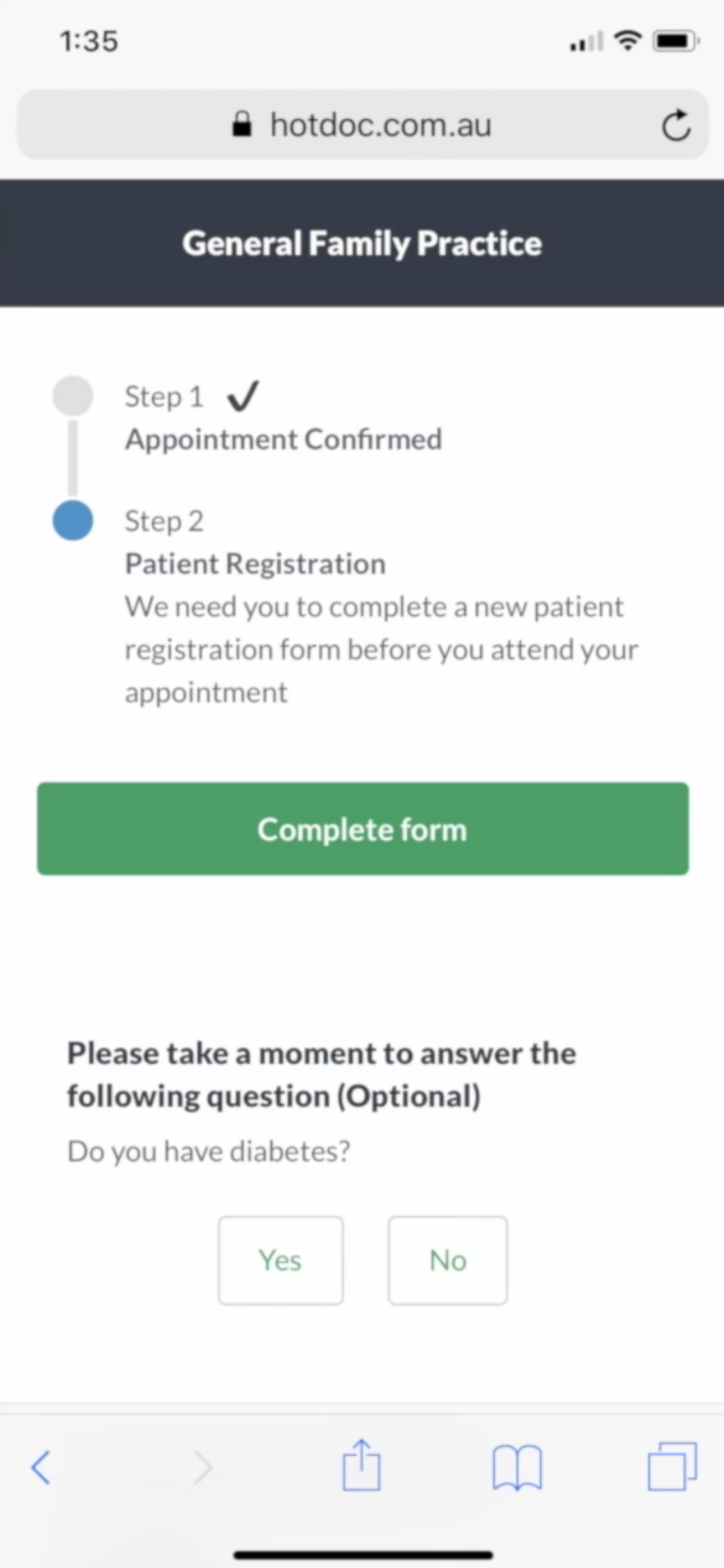 We may also send a prompt to the patient to complete their form as soon as we have synced that their booking has been made by reception. This prompt will also be sent out via SMS, Email or Push Notification. To turn this feature on, please check the tick box next to the Send the form as soon as the patient books option in the HotDoc Dashboard:



If you are using HotDoc inform promotions, the patient may also receive an Inform promotion once the form is submitted. To turn this feature on, see How to activate or deactivate a HotDoc Inform Campaign:


How do I preview my Form?
Sometimes you may want to see what the form looks like from the patient's point of view. Because each clinic's form is different and easily customisable, the best way to get a sense of the patient journey is by clicking into the Preview option of your own form.
Log in to your HotDoc Dashboard


Click into the Forms section, then the Forms button. From here, you can see the Preview option associated with your form:




Clicking the preview button will take you to a version of your form to view and try out for yourself: