We understand that invoices can sometimes be a little confusing. To assist, we've broken down the key features so you know what they are. The image below is an example of a typical HotDoc invoice: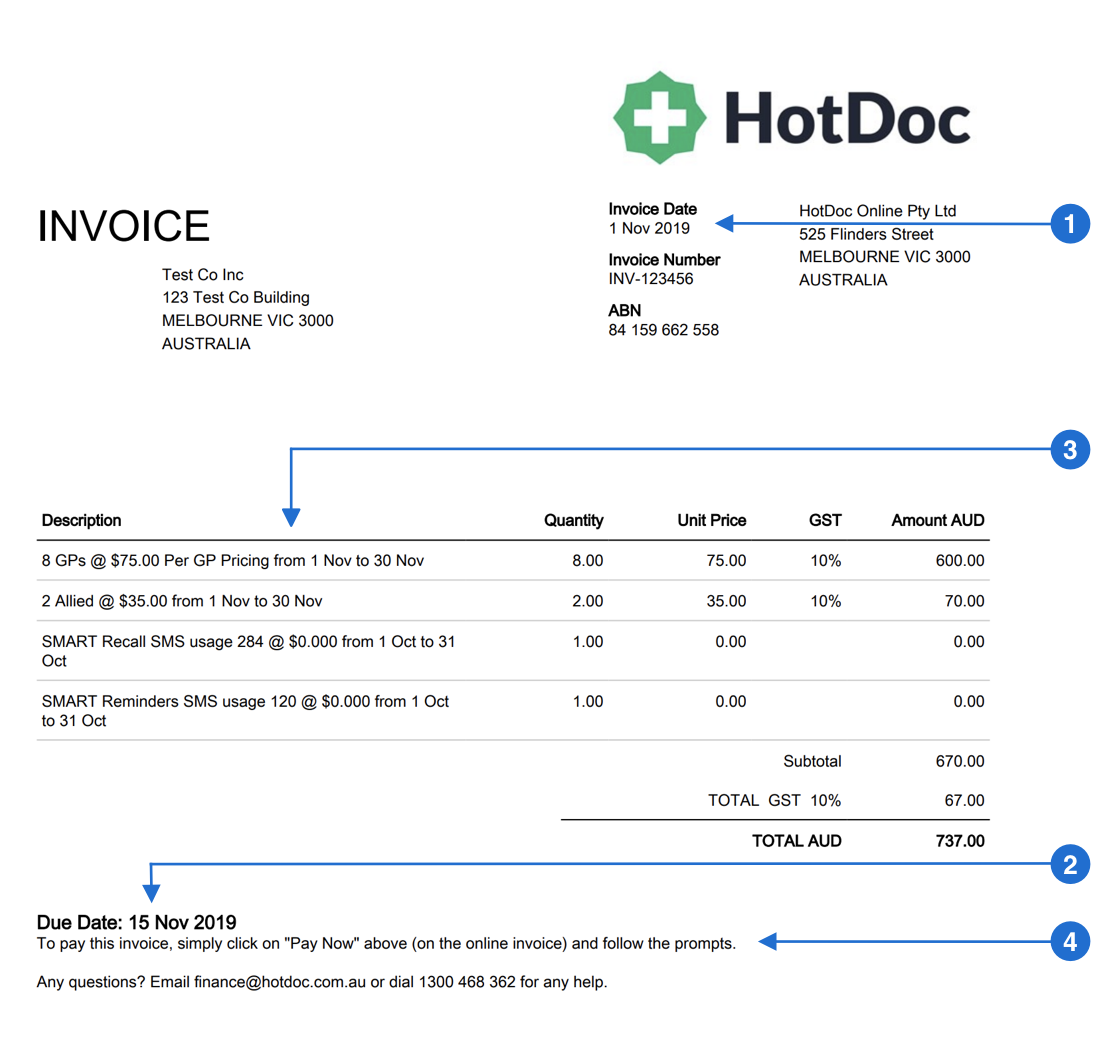 Here are some key things to know about your invoice:
Your first invoice will be sent two weeks post installation and will be pro-rated according to the remaining billing cycle. From thereon, you will receive your consolidated invoice on the 1st business day of each month.





Our payment terms are 14 days for all products unless specified otherwise in the invoice.





Your invoice will show each goods and services description, costs and rates in separate line items. You will receive a line item for SMS usage of the prior month and a Per GP Charge for the current month's subscription.




Please note, if you are on a legacy pricing model which includes prepaid SMS (which offers the option of bulk purchasing SMS credits), your SMS credits balance and usage can be viewed on your 'Dashboard' page, under the 'Setup' tab.





We currently offer two payment methods - Standard Invoicing or Direct Debit.




If you are on the Standard Invoicing payment method, you will be prompted to make payment on the online invoice link embedded in the invoice email.


If you are on the Direct Debit payment method, no further action is required and we will debit the outstanding invoice amount on the due date stipulated on the invoice.


If you are currently on our older pricing plan and are keen on moving to our latest pricing plan (https://www.hotdoc.com.au/practices/pricing/) that includes full access to all of the HotDoc platform as well as including all SMS charges for Reminders and Recalls in one simple price of $75.00 per GP, per month, it's best to speak to your Customer Success Manager to learn more about these plans and whether they would work better for you.
If you have any questions about the invoice features above, or general finance enquiries, please do not hesitate to contact our Finance team at finance@hotdoc.com.au or by calling 1300 468 362.