Place in Queue allows patients to see their "real time" place in the queue for their practitioner, from the moment they check-in for their appointment.
The feature aims to improve the communication between practice and patients and to increase patient engagement in the waiting room. Read further to learn more about how it works.


What is Place in Queue?
We've built Place in Queue to help manage patient wait times by automatically letting them know their position in the queue for their appointment. The feature shows each patient a live and updated estimate of how many people are in front of them after checking in, all within the HotDoc app.

How does it work?
For a patient to be able to see their estimated place in the queue, they have to:
Be checked in already for their appointment

Have the HotDoc app downloaded
ⓘ Important
Place in queue is shown in the Appointments section of the HotDoc app: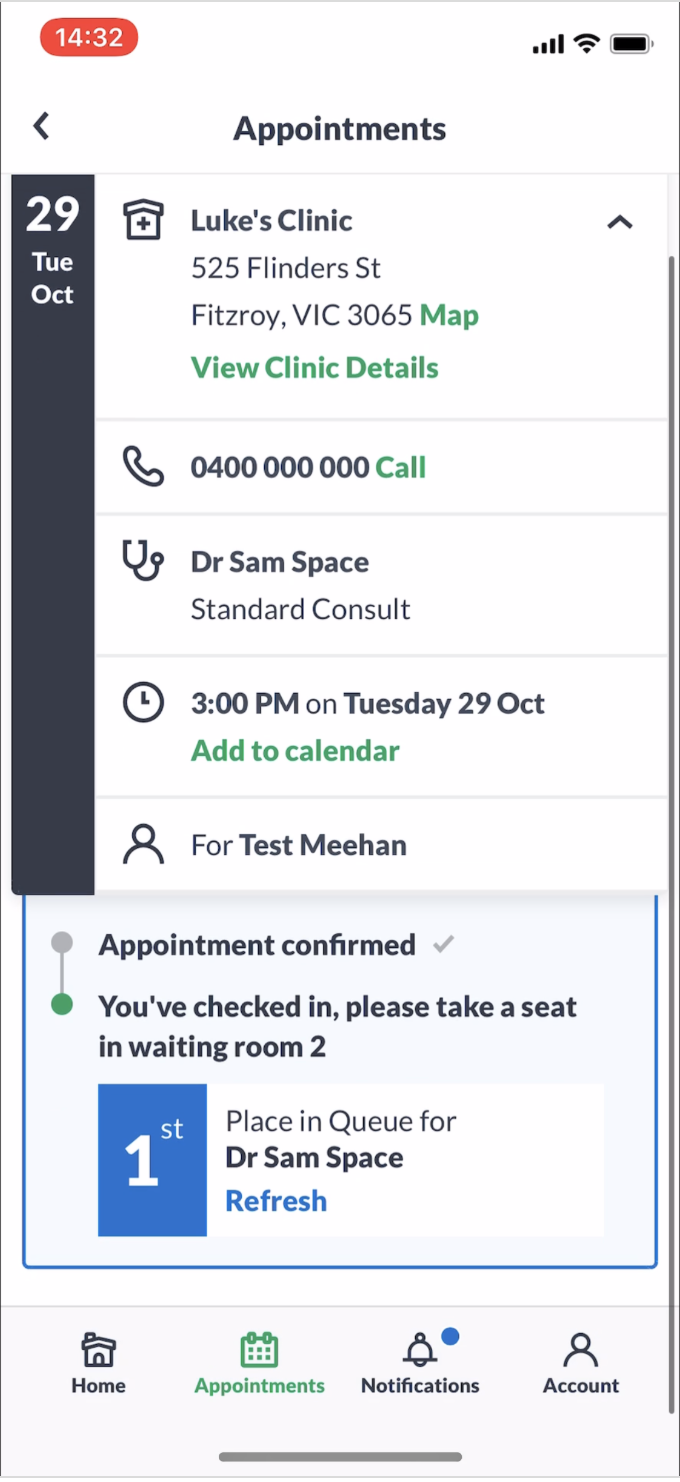 Place in Queue on the HotDoc app

We show Place in Queue in the HotDoc app if:
The patient has booked their appointment through HotDoc. When a patient books this way, they can see their place in queue on their device immediately after checking in. This is regardless of whether they check-in at the front desk or via a HotDoc Check-In Kiosk.


The patient qualifies to view non HotDoc bookings in their HotDoc app. Patients who book through other platforms (e.g. via reception) can also see their place in queue. However, they must meet the requirements to show their reception booked appointments in their HotDoc app.
If a patient does not have a registered HotDoc account, the only way they can see their place in queue is if they use the HotDoc Check-In Kiosk. Please know that this will only show their current place in queue at the time of check-in and will not show them live updates as they would if they had a registered HotDoc account.
How do we calculate place in queue?
To provide an accurate estimate on a patient's place in the queue, we take into account the following information:
HotDoc syncs all upcoming appointments with the status arrived and expected.

This refers to all patients who have already checked in or who are expected to check-in to see a specific doctor.




We then take into account the start time of each of these appointments for those who have arrived and waiting, and those who are still expected to see the doctor.

These two variables will then give the patient their individual place in queue.




Once the patient is moved in consult they will leave the queue. Please know that appointments both booked through the practice and through HotDoc will be taken into account when estimating the patients place in queue.

Please note: For the most accurate Place in Queue estimate, it is important to check-in patients accordingly as we look at both the arrived and expected status in your clinical software.
It is as equally important to move the status to in consult once the patient is called in to see their Doctor or did not arrive if they've missed their appointment. Doing so will allow us to calculate that these patients have left the queue.
How to turn off Place in Queue
Place in queue is turned on by default for all HotDoc practices. If you do not wish to have the place in queue function enabled for your practice at this time, you can easily disable it in your HotDoc Dashboard using the steps below:
Log in to your Dashboard,


Select Bookings > Settings:




Scroll down to the section titled Show Place in Queue. Tick the box to either enable or disable the feature and click Save!