If you would prefer a practitioner at your clinic to not be bookable online, you can do so by following the below steps.
1. Login to your Dashboard using your clinics HotDoc credentials. 
2. Once logged in, in the left hand menu, click into Bookings > Practitioner Setup


3. Choose the relevant practitioner you would like to take offline > click 'Edit'
4. Once in the practitioners profile, scroll down to the section 'Online Bookings Settings'
5. Here, untick the box 'Visible for Online Bookings'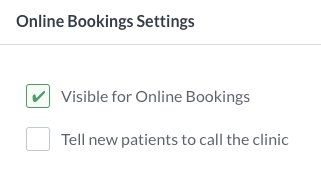 6. Once this has been actioned, a big green save button will appear at the bottom of the screen, select this button to save your change.

Once this has been actioned, your practitioner will be removed from your online bookings page.