You've signed up for HotDoc Reminders. Great choice! Getting started is simple - follow the instructions to get your automated appointment reminders sending today.
1. Navigate to Dashboard > Reminders > Settings.
2. On the page, find the Activate Reminders section. Leave this turned off until you are ready to start sending out reminders.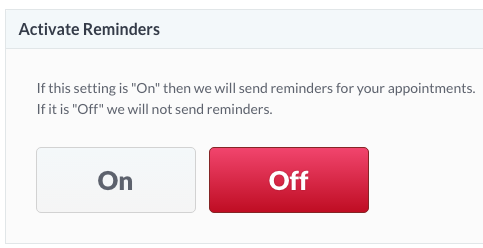 3. Scroll down to the Who should get reminders? section.

4. Set an exclusion age range for patients above a certain age if you choose.
5. The HotDoc system is set to send reminders to all patients by default (they can unsubscribe when a message is received). If you have collected Opt In/Opt Out at your practice and would like HotDoc to respect this, ensure the box: Send Reminders to patients regardless of opt out status in your Patient Management System is unchecked. 
6. Congrats! You have finished starting your Reminders set-up. Proceed to Step 2 to Select Your Doctors.
If you require assistance with this, please contact HotDoc at support@hotdoc.com.au