Sometimes a patient may have questions about the communication they have received from HotDoc on behalf of your practice. These questions are generally directed to your reception team as they are the first point of call.
Below are some helpful tips to get your reception team familiar with HotDoc Recalls and equip them with the information to answer any frequently asked questions from patients.
What does a Patient see when they receive a Recall?
HotDoc will send an SMN or Push Notification containing a unique link to the patient's mobile.
The patient presses the link, taking them to the identity verification page.


The patient will be asked to enter their surname and DOB.



Once this is entered correctly

the nature of the recall message will be revealed with the information you have created in your templates.



The patient can then book an appointment online if you have this setting in place.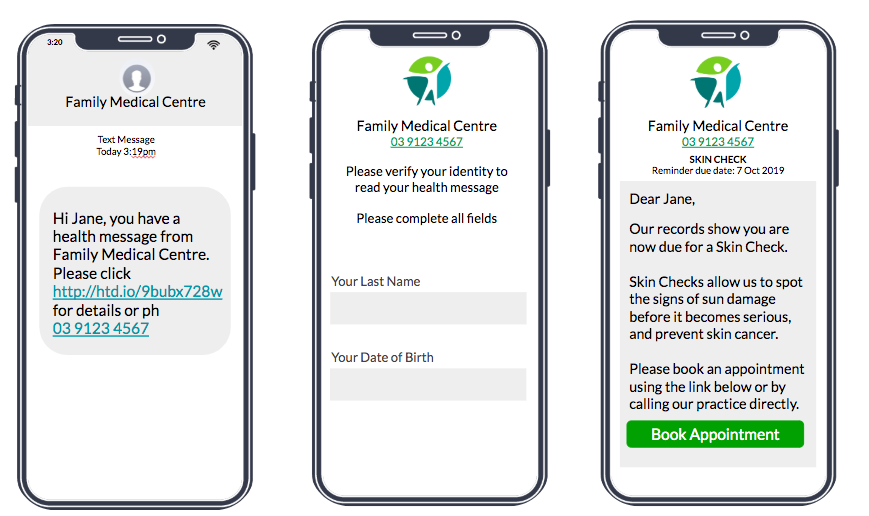 Tips for success
When first activating our Recalls product we recommend some of the following tips to increase your patient's engagement with the recall SMN:
1. If a patient phones the practice and they haven't clicked the link, encourage them to do the steps above.
2. Ensure you have put the posters up around the practice and you are handing out our Recall cards to patients. You can print additional resources here
This will help educate your patients, so next time they receive a Recall they will know what to do!

What to do if a patient prefers not to click on the link
There are two scenarios that might occur when activating the HotDoc Recalls product.
The patient may call the practice and can't access the link, as they don't have a smartphone or have mobile data.



The patient may prefer not to click on the link and call the practice directly.

You will also receive more calls if HotDoc Online Bookings are not used.
If a patient calls the practice directly and they can't be encouraged to follow the link, you can mark a recall as done in HotDoc to stop any further SMN communication. Please note, this will not resolve the recall in your Practice Software.
If you are utilising our Pause on Booking feature, the SMN communication to the patient will stop when the patient's appointment is booked. To learn more about this feature, click here.