It's easy to attach a CSV file to complete the set up for a Broadcast.
In the Dashboard, access Inform > Broadcast > + Create New Broadcast and select here: 

After selecting to upload, the page will display a blue Upload button. Select this button and locate the CSV file to upload.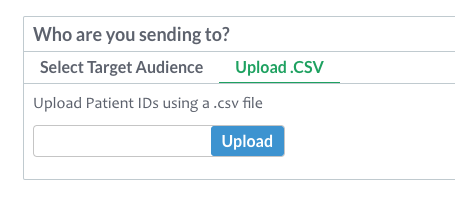 There are is a required component of the CSV for the Broadcast for each practice management system:
The CSV file must have the practice management system ID column included, or it will not process.
This should be a default when exporting the lists in each practice management system, and you can check the system requirements below: 
Zedmed = FILE_NUMBER
Best Practice = INTERNALID
Medical Director = PATIENT_ID
If you require assistance with this, please contact HotDoc at support@hotdoc.com.au